Skerries V Belfast Harlequins 7/10/17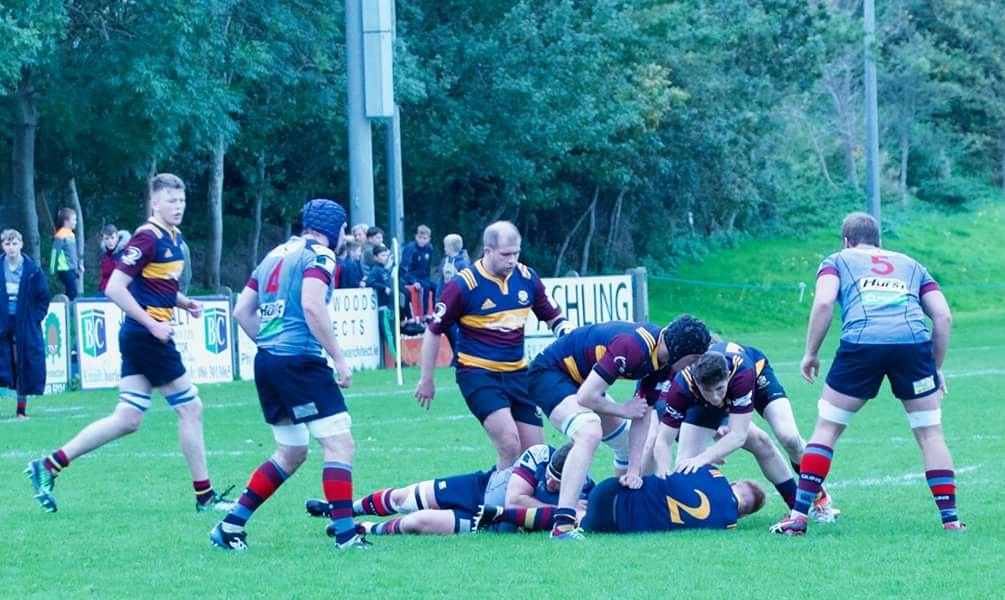 Skerries V Belfast Harlequins 7/10/17
October 8, 2017
Skerries RFC V Belfast Harlequins             AIL Division 2B                   Holmpatrick
Skerries RFC 28 pts – Belfast Harlequins RFC 14 pts
History was made for both clubs at Rockleyoke,Holmpatrick on Saturday when Skerries RFC welcomed Belfast Harlequins RFC in the first match every played between the clubs.
Once again Mickey Sherlock Captain of Skerries led by example but was out shone by the,
Man of The Match performance by Number 13 Dara Lowndes with two excellent tries following some brilliant handling and off loads by his fellow backs.
Skerries played with the strong wind in the first half and somewhat failed to use it to their advantage which Belfast Harlequins did to their benefit in the second half.
The scoring opened after 2.5 minutes on the clock following a penalty award against Skerries at a ruck which was converted by Harlequins T Emerson.
After 4 mins Skerries were penalised for crossing and the penalty was converted by Harlequins.
In the following period there was a lot of hard defending from both sides with numerous penalties awarded at the breakdown for not releasing with the result Skerries were denied possession of the ball for long periods
With 28 minutes on clock a lineout formed inside Harlequins 22m line Skerries won the ball and following a maul Joe Glennon and Barry Murphy who made ground the ball was off loaded to scrumhalf Eoghan Carron who crossed the line for a well taken try the conversion was added by outhalf Billy Mulcahy .
Skerries were beginning to find their rhythm and gain more possession and on the 39th minute great handling and running at pace by Chris Tonge and Paul Devitt, Dara Lowndes received the ball and broke through two tackles and crossed for a well taken try which was converted by Billy Mulcahy.
Early in the second half Harlequins started using the wind and quickly taken tap penalties by their scrum half which were causing problems for Skerries and two penalties were converted by out half T Emerson for Harlequins
After 55 minutes Harlequins won a lineout and moved the ball across their back line and Mark Gribben. crossed for a try in the corner which was unconverted.
In the following 15 minutes Skerries defended well and were showing their fitness levels with a number of good breaks out from defence attacking Harlequins from different areas of the field.
In the 78 minute a terrific run by Tom O,Hare and supported by Tom Mulvany and Mark Nally resulted in a ruck which Skerries retained possession with scrum half Rory Woods quick delivery to Eoghan Carron who passed inside to Kieran Leonard he broke two tackles and formed a ruck and on Rory Woods arrival at speed he gathered the ball and passed it to E Carron at outhalf who relayed it to the Captain Micky Sherlock , after a loop, the Captain sprinted away again showing his classical swing of the hips making great ground and with a terrific inside pass to the fast supporting full back Maurice McAuley who ran unopposed under the posts for the Bonus try which was converted by Billy Mulcahy to leave the score 28-14 to Skerries and another 5 league points to add to their tally.
This was a hard fought match and the Skerries squad should be congratulated for holding their nerve and patience during the match and achieving a successful outcome as a consequence in the end with the bonus try.
Well done to all involved and have a rest as the next AIL League Match is against Sundays Well RFC at home on the 28th October.
Skerries Team
15.Ross Gordon 14.Lorcan Jones 13.Dara Lowndes 12. Micky Sherlock (Cpt) 11.Paul Devitt 10. Billy Mulcahy 9.Eoghan Carron 1.Cormac Marrey 2.Chris Tonge 3.Mark Nally 4.Joe Glennon 5.Jim Mulvaney 6.Chris Wilkinson 7.Barry Murphy 8.Tom Mulvaney
Subs – Kieran Leonard, Johnny Sherwin, Tom O Hare, Ruari Woods, Maurice McAuley