Dungannon v Skerries Match Report 29th of Sept 2018/19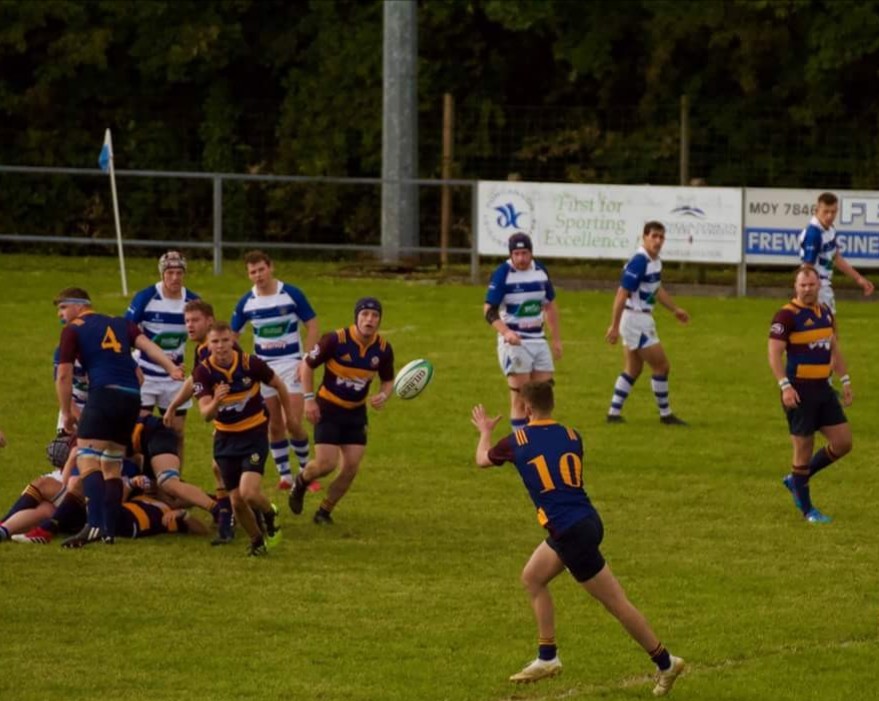 Dungannon v Skerries Match Report 29th of Sept 2018/19
October 4, 2018
Saturday 29th of September – Stevenson Park
The start of the AIL league got underway in Stevenson Park where Skerries Senior XV were looking to repeat their success of last season against Dungannon. In short they nearly achieved it and were coming away with the five points only for the last play of the game to be called back by the referee for a forward pass.
The conditions were ideal for rugby and after some promising performances in the Leinster league, Skerries were looking for that winning start. The stage was set for a tough encounter.
Skerries were without some experienced forward players from last season in Joe Glennon, Chris Tonge and Mark Nally which proved crucial when came to scrum time.
The first half was a stop/ start affair with Dungannon making the early play and pinning Skerries in their own half. The penalty count was quite high as Skerries suffered from Dungannons stronger scrum and forward power but fierce tackling and passing errors kept Dungannon at bay. Eventually Dungannon got the scorre board ticking with a penalty kick, followed by a second and third penalty in quick succession. Tom O Hare had to retire with an ankle problem and was replaced by Ben Jenkinson. During the next quarter, Skerries played some good rugby with Billy Mulcahy pinning Dungannon back into their 22 meters. After some good approach Ross Mc Auley was just held up. However Skerries were awarded a penalty which Mulcahy duly slotted. Skerries last play before half time saw them create a three to one overlap. A Dungannon player appeared to deliberately knock the ball down and the try was lost, however the referee only awarded a penalty which Mulcahy duly slotted to leave the score 9-6 in favour of Dungannon. Half time remained as 9-6.
The second half was definitely a more livelier affair but if was Dungannon who struck first blood. Conn Marrey replaced Kieran Leonard at hooker and Paul Devitt replaced Lorcan Jones in the backs. Skerries were reduced to 14 men with Cormac Marrey was sent to the bin which was probably unjust for an encroachment on a quick Dungannon tap penalty. Then as Skerries were attacking Dungannons 22 meter, a Skerries pass was intercepted and Dungannon ran the full length to score under the posts. Conversion made it 16-6 and a blow for Skerries. Within 4 minutes, Dungannon scored a second try to make the score 21-6. Skerries were then further reduced to 13 men when Eoghan Carron was sent to the bin for a deliberate knock down. Things got worse for Skerries when Dungannon scored a third try through some good work by their pack. Conversion was added and Dungannon led 28-6 with 15 mins left.
Skerries made some changes at scrum half with Ruiari Woods coming in for Eoghan Carron. This seemed to spark Skerries into life.  The pace of the game picked up and Skerries were causing problems for Dungannon. Ben Jenkinson, AJ Sherlock were winning good lineout and go forward ball meaning quicker ball for the backs. With 10 mins to go Skerries got a try in the corner by Barry Murphy. Difficult conversion was missed by Mulcahy. From the restart Skerries made great inroads with Ross Mc Auley, Barry Murphy, Cormac Marrey and AJ Sherlock. The ball was moved wide across the back line and Skerries were in for a try scored by Kevin McGrath which was duly converted by Billy Mulcahy. Suddenly a renewed hope from Skerries who again put together a number of phases and score a third try by Kevin McGrath and superbly converted from the touch line by Mulcahy. The score was 28-25 and Skerries still on the ascendancy.
With three minutes to go, Skerries worked their way up the pitch deep into the Dungannon half, the ball being moved across the back line a number of times. With Skerries having again created the overlap, the referee adjudged the last pass from a Skerries player to have gone forward and with Skerries going over near the corner, pulled back the play for a scrum.
There was no time left to apply any further pressure and get that all important score to turn the tide in Skerries favour.  Dungannon held on to avenge last year's defeat.
Skerries will look back on this as the one that got away in the end but probably have no complaints based on their overall performance. The team will need to correct certain areas of play for the next game but can be content with their play in the latter 20 minutes of the second half.
Good performances by Ruiari Woods, Billy Mulcahy, Ross Dempsey on the backs while Ben Jenkinson, Neil Martin, Cormac Marrey and AJ Sherlock were the pick up front.
Skerries play their first home match this Friday night in Holmpatrick at 8pm against MU Barnhall and are hoping for a large home crowd to support the boys for this tough encounter.