Kids Summer Camp 2022: *Open for bookings*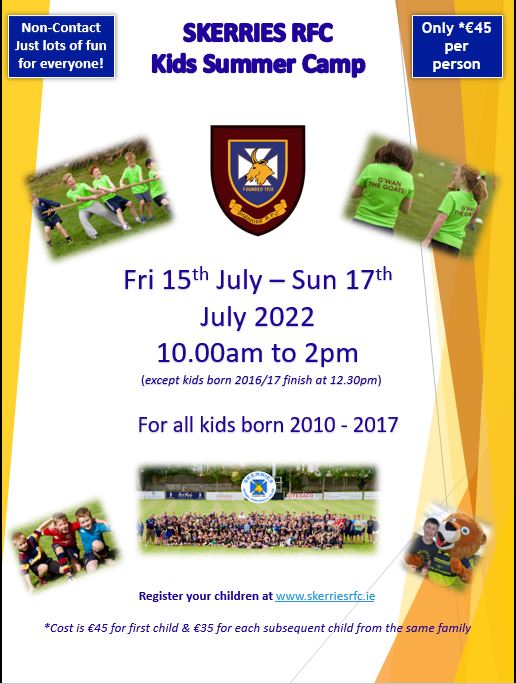 Kids Summer Camp 2022: *Open for bookings*
June 13, 2022
Register & pay online: https://sportsmanager.ie/sportlomo/registration/event-registration/index/2714
We are delighted to announce that Skerries Rugby Club are hosting our annual Kids Summer Camp, sponsored by SuperValu, from 15th to 17th July.
It's a non-contact summer camp and will be a fun-filled three days of rugby-based games, obstacle courses, and activities – All aimed at having fun in a safe environment and supervised by qualified club coaches.
There will be a T-shirt for every child and a BBQ on the Sunday, with our now-famous water fight! Parents are welcome to come watch their kids. We hope to see you there!
INFORMATION:
Fri 15th to Sun 17th July 2022
Open to kids born 2010 to 2017
10am to 2pm daily (except kids born 2016 & 2017, who finish at 12.30pm)

Cost: €45 for 1st child in a family, €35 for each subsequent family child

kids should bring lunch and boots / runners
Location: SKERRIES COMMUNITY CENTRE GAA PITCH (Beside tennis courts) – due to remedial work this summer on our grass pitch

Any Queries, contact Grant Grieve: 087 764 2134
It's always a great 3 days – do not miss it!