AIL Sligo v Skerries 16th Feb'19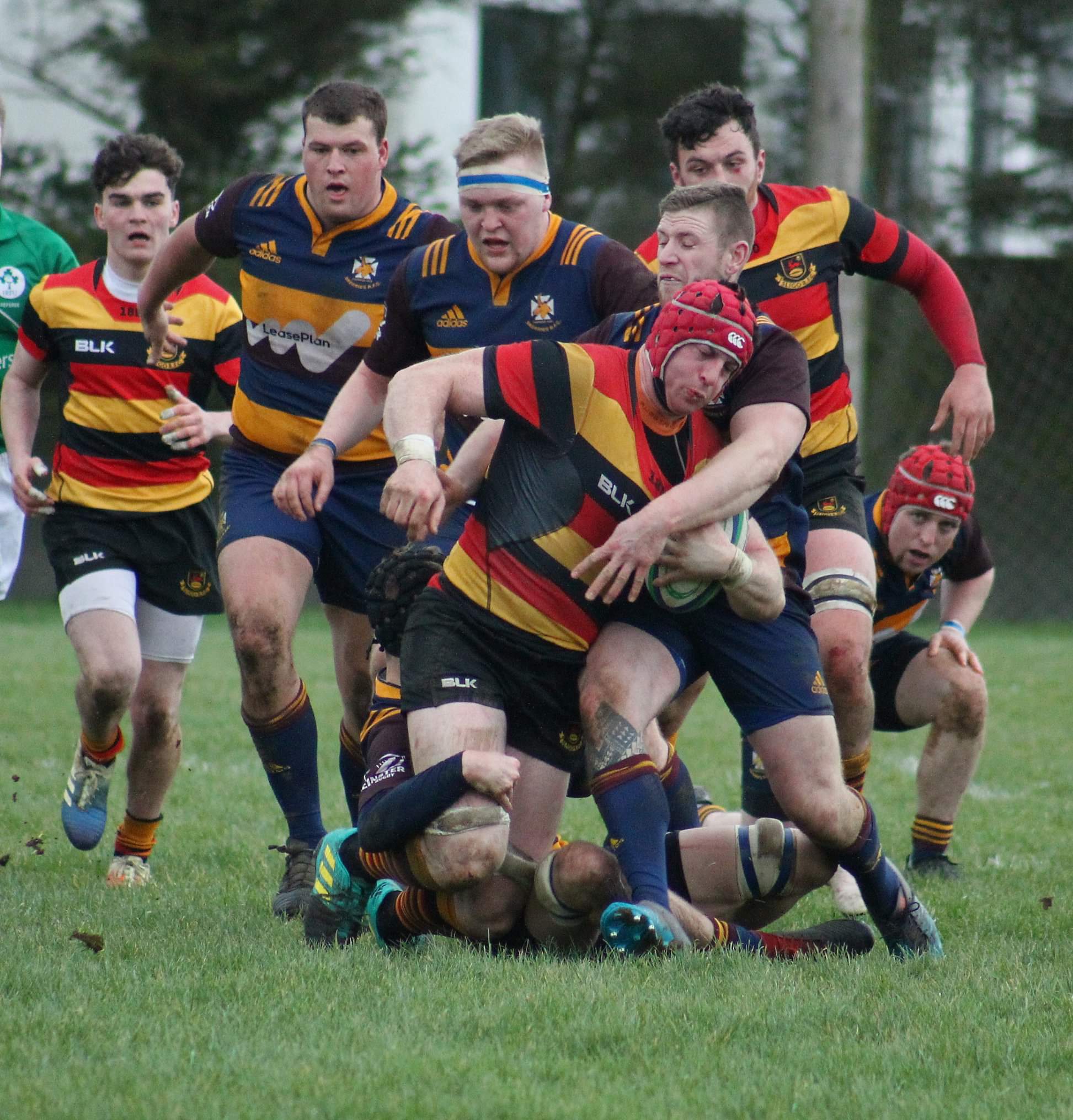 AIL Sligo v Skerries 16th Feb'19
February 19, 2019
Saturday 16th of February, Hamilton Park
Sligo 27- 27 Skerries
Tries; Evan Sherlock, Paul Devitt, Mikey Sherlock
Cons; Billy Mulcahy (3) Pens: Paul Devitt (2)
After two week break Skerries resumed their AIL campaign with a visit to the north west to play Sligo. In the home fixture Skerries earlier in the season, they got zero points so wanted to make up for that.
In the lovely setting of the Ben Bulben in the background, it was a blustery but dry day. Memories of five years ago when Skerries won automatic promotion to Division 2A with the last play of the game against Sligo while edging out Thomond, this venue proved a favourite. Both Presidents in their pre match addresses referred to this game as a must win for their sides, Skerries probably needed it most to avoid a dog fight with relegation. In the end the soils were shared with Sligo picking up an extra point for 4 tries.
Changes in the team were Evan Sherlock in for Ross McAuley and Lorcan Jones back in for the unfortunate injured retiree of Eddie O Mahony.
Sligo played with the wind at their backs and within two minutes had crossed the whitewash to take an early 7-0 lead. Within another two minutes, some sloppy defending by Skerries allowed Sligo to score another try to race to a 14-0 lead. It certainly looked like a long day at the office.
However, Skerries regrouped and started putting some decent phases together. Sherlock and Jenkinson leading the charge. After a number of good phases, the ball reached Evan Sherlock who stretched for the line and scored. Bill Mulcahy added the conversion and Skerries were back in it.
Skerries second try soon followed. Some good handling by the backs, lead to Loran Jones making the break up the blind side. While he was stopped just short, he popped the ball to Paul Devitt to score out wide. Again Mulcahy added the difficult conversion and sides were level. Skerries continued their purple patch with the try of the game. Scrum 40 meters out, went right, Mulcahy passing out the back door to Mikey Sherlock who straightened and went unopposed to the try line. Again Mulcahy converted to leave Skerries 21-14 up with ten minutes to go to the half. Conn Marrey replaced Kieran Leonard at hooker.
Just before half time, Sligo worked their way back into the game with some good play through their big forward pack. On the stroke note of half time, they edged their way over after Skerries failed to clear their lines. The conversion was missed to leave the half time score 21-19 in favour of Skerries. It was a good exciting half with five tries and both teams willing to have a go.
The second half proved to be a more dogged affair but excited the supporters. Skerries lost Billy Mulcahy to an injured thumb and was replaced by Ruari Woods at 9 with Eoghan Carron moving to the vacant out half position. Ten minutes into the half, Skerries were awarded a penalty which Paul Devitt duly slotted over to push the score to 24-19. In almost a replica position, Skerries were awarded another penalty which Devitt slotted again to leave Skerries ahead 27-19.
Both teams tried to push home advantage. Lorcan Jones teased the Sligo defence and strong running by Kevin McGrath and Sean Dempsey plugged away to break the Sligo line.  Both teams made some great defensive crunching tackles to keep either team from scoring.
With 30 minutes gone in the second half, Sligo made the breakthrough with a well worked try up the right side, good inter play to score their fourth try in the corner. The conversion was missed but the game was swinging in Sligo's favour.
The restart went dead and Skerries were once again on the defensive. Johnny Sherwin came on for Trevor Scuffli, Leonard back on for Conn Marrey, Barry Murphy on for Michael Turvey and Conor Lennox on for Sean Dempsey.
With five minutess to go, Sligo were awarded a penalty which they got to tie the scores at 27-27. It seemed a fair result at that stage but both teams continued to search for the winning points.
To be fair, Sligo forward bench gave them an advantage and Skerries spent the last few minutes defending. When Skerries did break out and were threatening, it needed a cool head to provide the killer blow which unfortunately did not materialise.
The game ended all square and Skerries will probably feel happy to take two points from this game. The pack showed up well against a heavy Sligo pack. Ben Jenkinson and Tom Mulvany provided the lineout ball with both Cormac Marrey and Trevor Scuffli standing strong in the scrums. Carron and Mulcahy linked well and Mikey Sherlock and Dempsey were their industrious selves while Lorcan Jones always threatened.
Next week Skerries continue their journey west with a match against Galway Corinthians. This will be another tough encounter against a team looking for points like Skerries. As always, the team are hoping for a large travelling support. Skerries remain 7th in Division 2B.
Team: Kevin McGrath, Lorcan Jones, Sean Dempsey, Mikey Sherlock, Paul Devitt, Billy Mulcahy, Eoghan Carron, Evan Sherlock, Ben Jenkinson, Michael Turvey, Tom Mulvany, Ross Halligan, Trevor Scuffli, Kieran Leonard, Cormac Marrey, Subs – Johnny Sherwin, Conn Marrey, Barry Murphy, Ruari Woods, Conor Lennox.