Navan V Skerries Friday 5th of Jan'18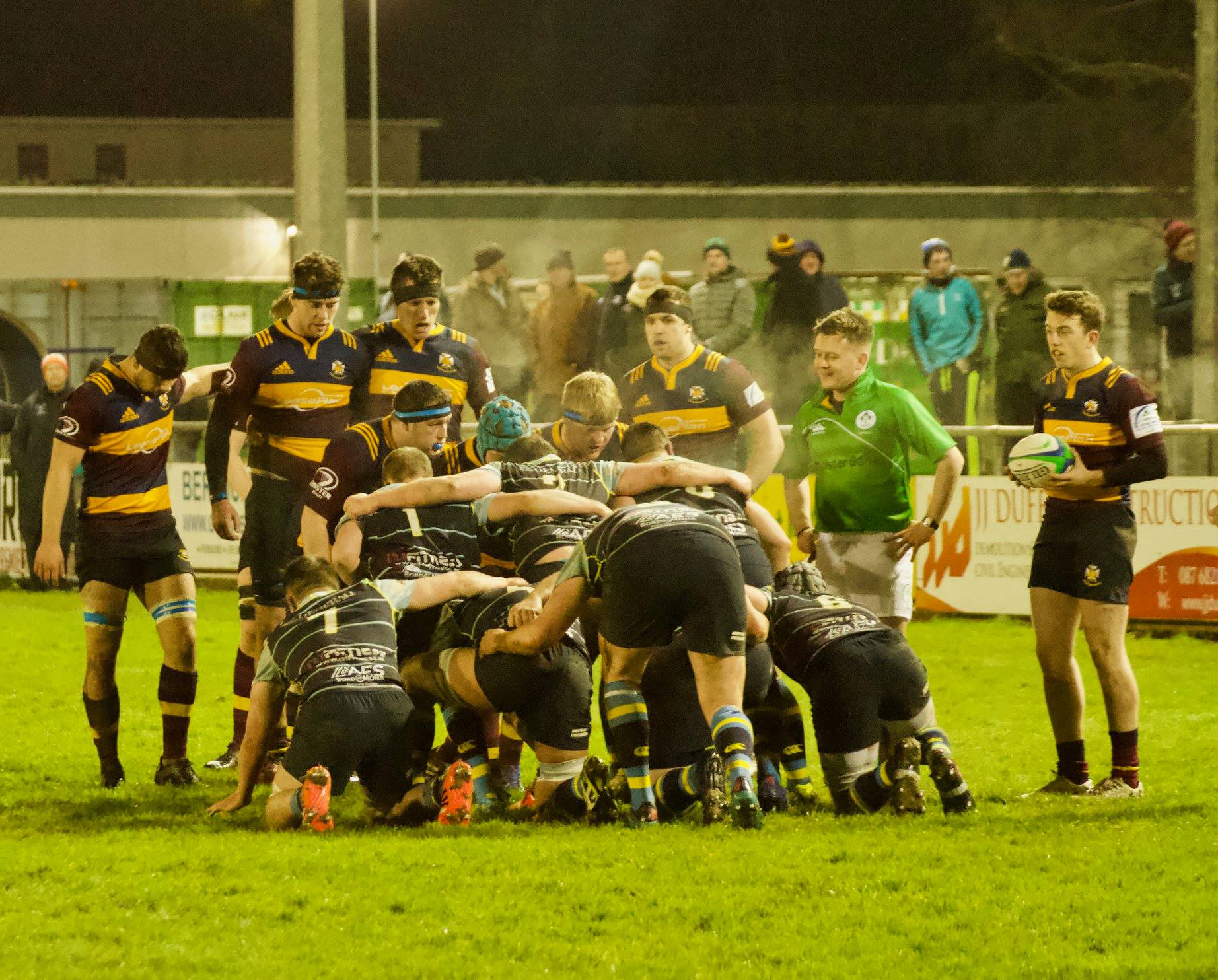 Navan V Skerries Friday 5th of Jan'18
January 9, 2018
MATCH REPORT
NAVAN RFC 41 – 15 Skerries RFC
Skerries travelled to Navan RFC in Balreask Old for their UBL 2B clash last Friday night. In sub-zero conditions this was both teams return to action after the festive break.
The Skerries players settled in well from the start with Conor Lennox saving a certain try with a superb tackle. Shortly after Rory Woods was stopped short of the Navan try line but from the resulting play with some fine passing and running a ruck and maul formed and Chris Tonge scored a try.
This was followed twelve minutes later by a try to Navan following a chip to the corner which was converted.
A short while later in an attacking move by Skerries the ball was passed to the Skerries hooker, Chris Tonge who found himself on the left wing and in the style of a Irish front row of earlier times, who also has ginger hair, he sprinted to the try line with a number of Navan players hitching a lift on his back to score a good try.
In the minutes before half time Navan scored two tries which gave the half time score 17pts to 10pts in favour of Navan RFC which was not a reflection of the Skerries team performance during the first half.
In the second half Navan players used their kicking skills to pin the Skerries team into the defensive areas on the pitch thereby giving themselves good opportunities to attack the Skerries try line this tactic worked well to their advantage as they managed to cross the Skerries try line four times to score .
The Skerries players never gave up hope and following a brilliant passing movement assisted with forward support Mark Oliver on the left wing left the Navan defence in his wake to score a great try.
This gave Skerries team good hope of getting a bonus point try but alas it was not to be despite their sustained effort to the final whistle.
Skerries next League match will be at home on the 27th January against Rainey Old Boys.
Team; 15 Conor Lennox,14 Ruairi Woods,13 Dara Lowndes,12 Ross Dempsey,11 Paul Devitt,10 Billy Mulcahy,9 Eoghan Carron,1 Cormac Marrey 2 Chris Tonge,
3 John Sherwin, 4 Joe Glennon, 5 Tom Mulvany, 6 Michael Turvey ,7 Barry Murphy, 8 Conn Marrey.
Subs; 16 Tom O'Hare, 17 Darragh Joyce, 18 Ross Halligan, 19 Dave Goodman, 20 Mark Oliver.