New! Player of the Month Award…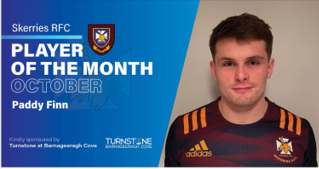 New! Player of the Month Award…
November 19, 2020
STAND UP PADDY FINN!
Turnstone@BarnageeraghCove have come on board as a new club sponsor. We are delighted with this and as part of it, they will sponsor our Senior Player of the Month awards. Huge congratulations to Paddy Finn, our inaugural & October 2020 winner.
A word from our partners at Barnageeragh Cove:
In supporting the local Skerries community during these difficult times, we are delighted to announce that we are proud sponsors of Skerries Rugby Club.
As part of our sponsorship, we are introducing a Player of the Month award. Winners will receive a voucher for a local business to further support the community.
Visit their Facebook page https://www.facebook.com/barnageeraghcove/
Visit www.barnageeraghcove.ie to register your interest.