Skerries U-17's All Ireland Champions 2014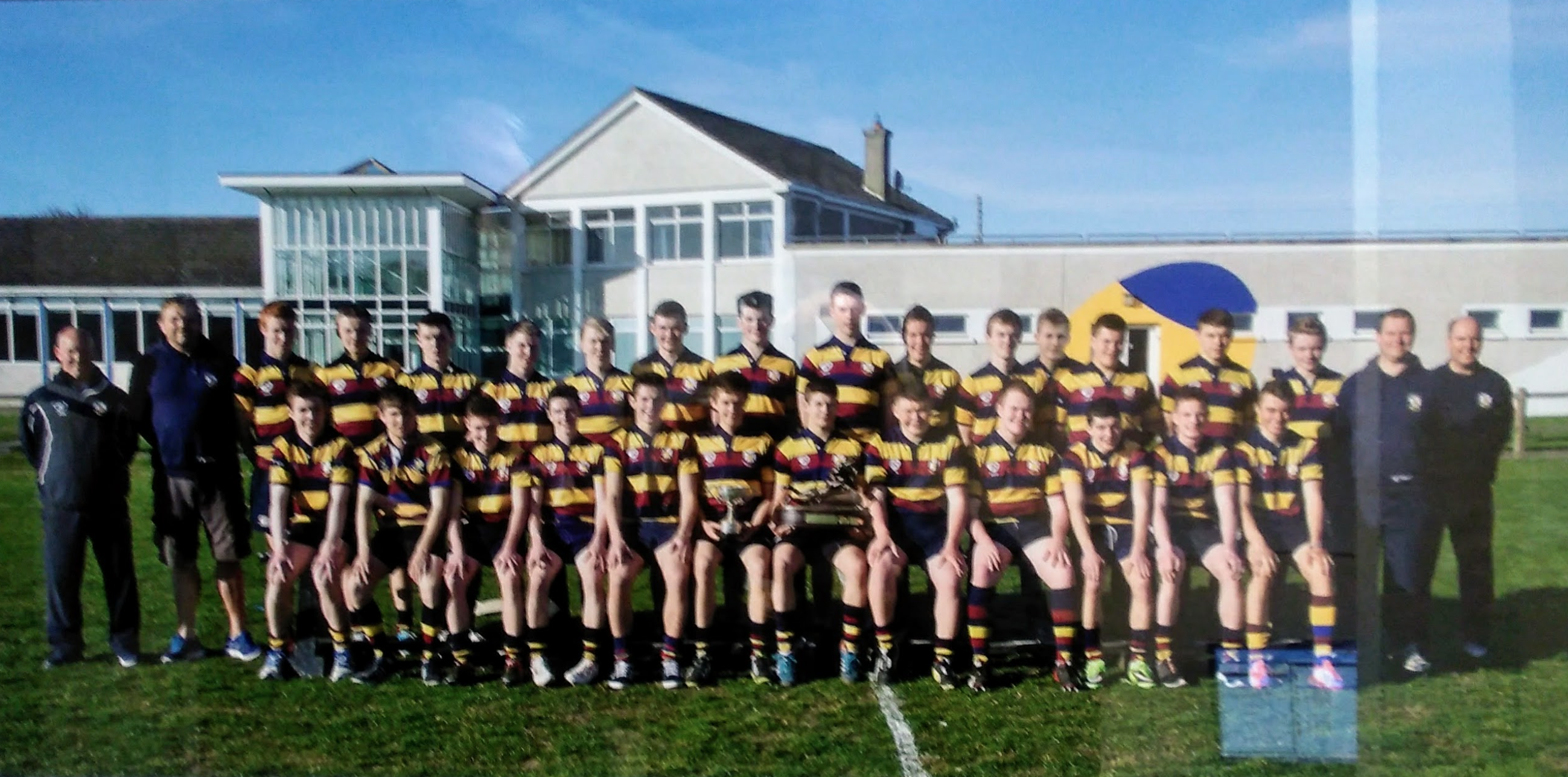 Skerries U-17's All Ireland Champions 2014
December 5, 2017
The picture shows the victorious Skerries U17 team who won the All Ireland Under 17 competition on 5 April, 2014.
Throughout their mini & youth season's Skerries had competed ferociously with Navan and as it transpired the Leinster final proved to be decisive when Skerries beat Navan 12-11. Navan had won the All Ireland the previous season and had high expectations. Skerries proceeded to a semi final against the Ulster champions, Rainey which Skerries won 36-0.
In the final Skerries played Galwegians at Naas RFC. A full report of the final is available on the Leinster domestic website: https://www.leinsterrugby.ie/skerries-defeat-galwegians-31-12-in-under-17s-ail/ but in summary Skerries proved to be too powerful and athletic for a dogged Galwegians side and won 31-12 with tries from the skipper Jake Deering, Daragh Martin, Cillian O'Leary, Ruairi Woods and Ben Jenkinson. Conversions were shared between Ciaran Frawley and Stephen Smith.
Three seasons on and many of the lads are still donning the Gold, Cerise and Blue: Conn Marrey, Lorcan Jones, Ben Jenkinson, Ruari Woods, Tom Mulvany and George Harrington have all seen AIL action in the past two seasons. Sam Toft, Niall McCann, Daniel Downing, Callan Boyle, Mark McIllroy, Jack Connolly, Jake Deering and Ben O'Keefe have also played for the J1's and/ or Under 20's. Ciaran Frawley now plies his trade with UCD, Leinster and played in the U20 RWC, while Cillian O'Leary is currently playing in Canada. Of the 22 lads in the picture only 6 no longer play at all due to Gaelic football, work or injury. It is that return rate of over 70% transitioning into adult Rugby which is perhaps the greatest achievement.
As the report says: Great game, great season, great bunch of lads on this team, great coaching, great support. Many thanks to the coaching team along the way which consisted of: Terry Woods, Mark Harrington, Colin Deering, Simon Toft, Ciaran O'Keefe and Tony Frawley at various stages. Mark, Terry & Colin continue to support the adult teams so the pathway has produced players, coaches and administrators.Sk