Skerries v City of Derry 17/9/2016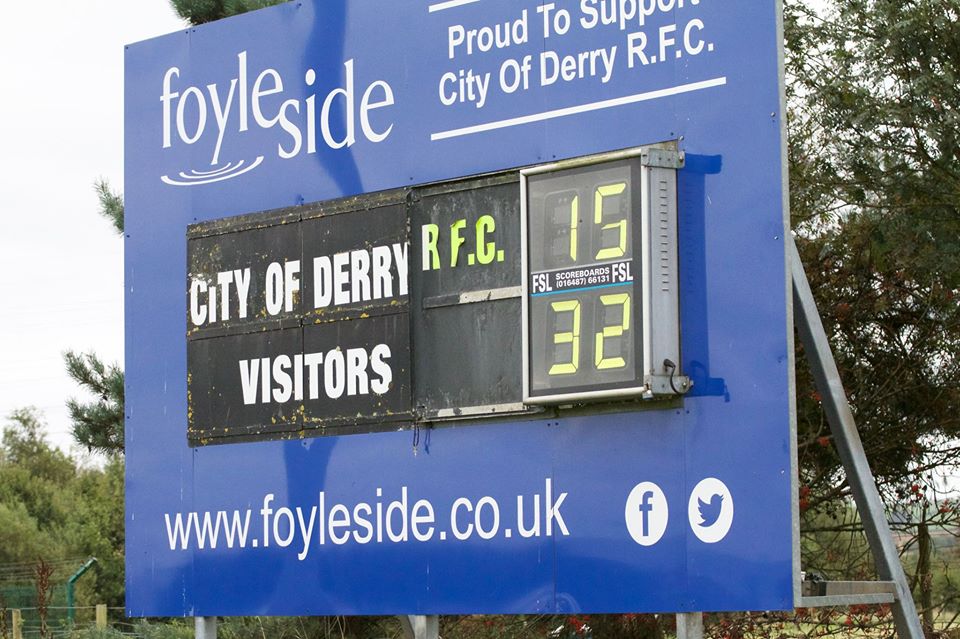 Skerries v City of Derry 17/9/2016
September 18, 2016
Ulster Bank All Ireland League Div 2A
Judges Road   –   17/09/2016
City of Derry: 15   (B Barber R Baird try each, N Burne 1 pen 1 conv. )
Skerries: 32 (R McAuley 3 tries, J Glennon D Quirke try each, P O'Loghlen 2 con, B Mulcahy 1 pen.)
If there were any Skerries supporters out there, who wondered about player resources, who doubted the talent, who questioned the commitment, the visit to Derry on Saturday answered the question. Derry opened the scoring with a penalty by Neil Burne following a scrum infringement. From the resumption in play Joe Glennon's chase and physicality was sufficient to allow Ross McAuley gain possession, link with Paul O'Loghlen who found Glennon in support and Skerries were ahead 7 points to 3.
In dubious circumstances Derry quickly replied, when, following a passage of loose play and discussion among the officials, scrumhalf Ben Barber was credited with an unconverted touchdown.  With scrumhalf Eoghan Carron and outhalf O'Loghlen playing significant roles Skerries worked their way up field and from a five metre lineout hooker Mark Nally's quick throw in found Ross McAuley who smuggled the ball over the line unopposed.                                                                                                                                                                                                                      The third try resulted from a break by hooker Kieran Leonard who linked with wing forward Michael Turvey who then made good ground before offloading to a grateful McAuley for his second try.  As halftime approached Billy Mulcahy was introduced as a substitute for the impressive O'Loghlen who retired injured. He quickly settled to the task in converting a penalty to leave Skerries leading 8 points to 22.                                                                                                                                          On resumption the siege of Derry continued when full back David Quirke's work rate was rewarded with an unconverted try to guarantee a bonus point.  Skerries continued the second half, as they did the first, with a series of lineout drives where second row Ben Jenkinson and back row Tom O'Hare were dominant throughout and frequently stealing ball at the breakdown. The succession of drives resulted in captain Ross McAuley touching down for his hat-trick of tries.                                                                                                                                  Due to injuries and tactical substitutions the Skerries front row was replaced with the talented and enthusiastic youngsters – Conn Marrey, Cormac Marrey and Conor Roynane – who all performed with energy, effort and intensity. Maurice McAuley who had earlier replaced the injured Lorcan Jones on the wing was now asked to occupy the scrumhalf position as an eye injury forced Eoghan Carron to retire.                                                                                                                                                   As history confirms, Derry were never in a mood to surrender and now closed the defensive gates and imposed their will on their opponents. With Ross Dempsey and Colin Doyle very solid in midfield a gap was eventually detected closer to a maul to allow Derry no. 8, Richard Baird, complete the scoring with a converted try. Any pretensions of comfort disappeared but Skerries regrouped, kept their shape and persevered to take maximum points in their first AIL outing.                                     The coming season's challenge will be many for these young players and at times will not be met easily but it will be tackled honestly. Saturday was the answer.
Skerries play Dungannon in Holmpatrick Saturday next 24th. Sept at 2.30.
Skerries team 1 to 20….Mark Nally Kieran Leonard John Condron Joe Glennon Ben Jenkinson Thomas O'Hare Michael Turvey Ross McAuley(capt) Eoghan Carron Paul O'Loghlen Lorcan Jones Ross Dempsey Colin Doyle Paul Devitt David Quirke Conn Marrey Cormac Marrey Conor Ronayne Maurice McAuley Billy Mulcahy
You Take Him ! We're Right Behind You
Click HERE For League Table
Derry Journal REPORT