Skerries v City of Derry AIL Div 2C 12th Oct'19 – Match Report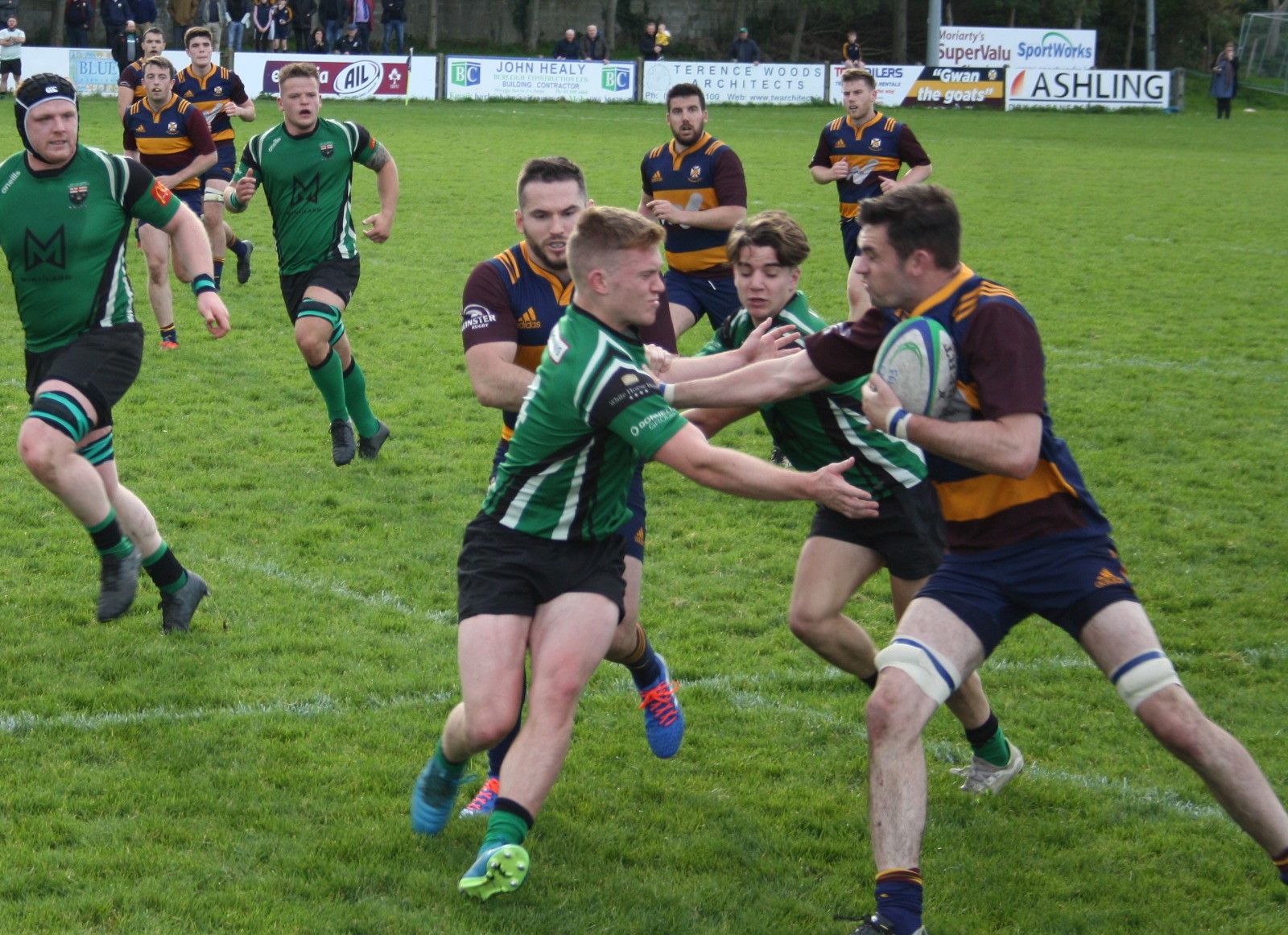 Skerries v City of Derry AIL Div 2C 12th Oct'19 – Match Report
October 14, 2019
Skerries RFC 38-36 City of Derry RFC
Skerries: K McGrath, M Turvey 2 tries each, C Doyle try, P O'Loghlen 2 con, B Mulcahy 2 penalty, 1 drop goal
City of Derry: D Graham 3 tries, D Lapsley T Cole try each, N Burns 4 con, 1 pen
Skerries basked in crisp autumnal sunshine where long standing friendships with City of Derry were reconnected as the second fixture of the Energia AIL Division 2C was fulfilled.
A stunning first-half saw the home side's captain, Kevin McGrath, touch down within two minutes for an unconverted try. City of Derry replied straight away with a converted try from centre D Graham. Michael Turkey from Skerries, finished off some neat back-line movements to make it 12-7. Within minutes the same player repeated the touchdown, when through delicate footwork and strong running, he brought the score to 19-7.
Some confusion in the Skerries back-line, allowed Graham from Derry, score his second try under the posts. This was negated when his opposite number, Colin Doyle, scored in the corner.
Derry again quickly responded when Graham, a most impressive player, concluded his hat trick of tries to move the gap within three points.
Towards the stroke of half-time, Kevin McGrath scored Skerries fifth and final try to bring the score to 29-21. A high intense first-half concluded having delivered, on average, a try every five minutes!
The beautiful game was alive and healthy.
During the first-half, Skerries had lost scrumhalf Ruairi Woods who was replaced by Eoghan Carron and in the second-half, Paul O'Loghlen give way for Billy Mulcahy to take control at out half. He promptly converted a penalty which was soon followed by a penalty by Derry's Neil Burns.
City of Derry's other centre, D. Lapsley, joined the try scoring statistics before Mulcahy slotted over his second penalty to make the score 35-31.
With ten minutes left to play, the visitors went into the lead for the first time with a try by winger T. Cole.
This was breathless stuff but not yet over. Skerries refused to go gently but increased the intensity, pressing desperately for a winning score. The game drifted into injury time and Skerries were still trailing by one.
Then came a moment of magic by Skerries out-half Billy Mulcahy. In the last remaining seconds of the match, victory was snatched away from Derry by his remarkable and dramatic drop goal!
There went the final whistle much to the delight of the entire squad and the large home support crowd.
A special mention must be directed at the entire Skerries pack, the never say die attitude was truly alive and kicking on Saturday!
Well done to the tough front row of Cormac Marrey, Kieran Leonard and Johnny Sherwin who never took a back step. To the young talented second row of Tom Mulvaney and Paddy Fay Watt and the hugely energetic back row of Michael Turvey, Ben Jenkinson and Ross McAuley.
Commiserations to the City of Derry pack. They had an awesome performance right to the final whistle. A hugely competitive match which will make the return leg all that more exciting!
Skerries team: Cormac Marrey Kieran Leonard Johnny Sherwin Paddy Fay Watt Tom Mulvaney Michael Turvey Ben Jenkinson Ross McAuley Ruairi Woods Paul O'Loghlen Mark Oliver Colin Doyle Lorcan Jones Ross Gordon Kevin McGrath (capt) Conn Marrey Conor Ronayne Tom O'Hare Eoghan Carron Billy Mulcahy.