Skerries v Dungannon – 09/04/17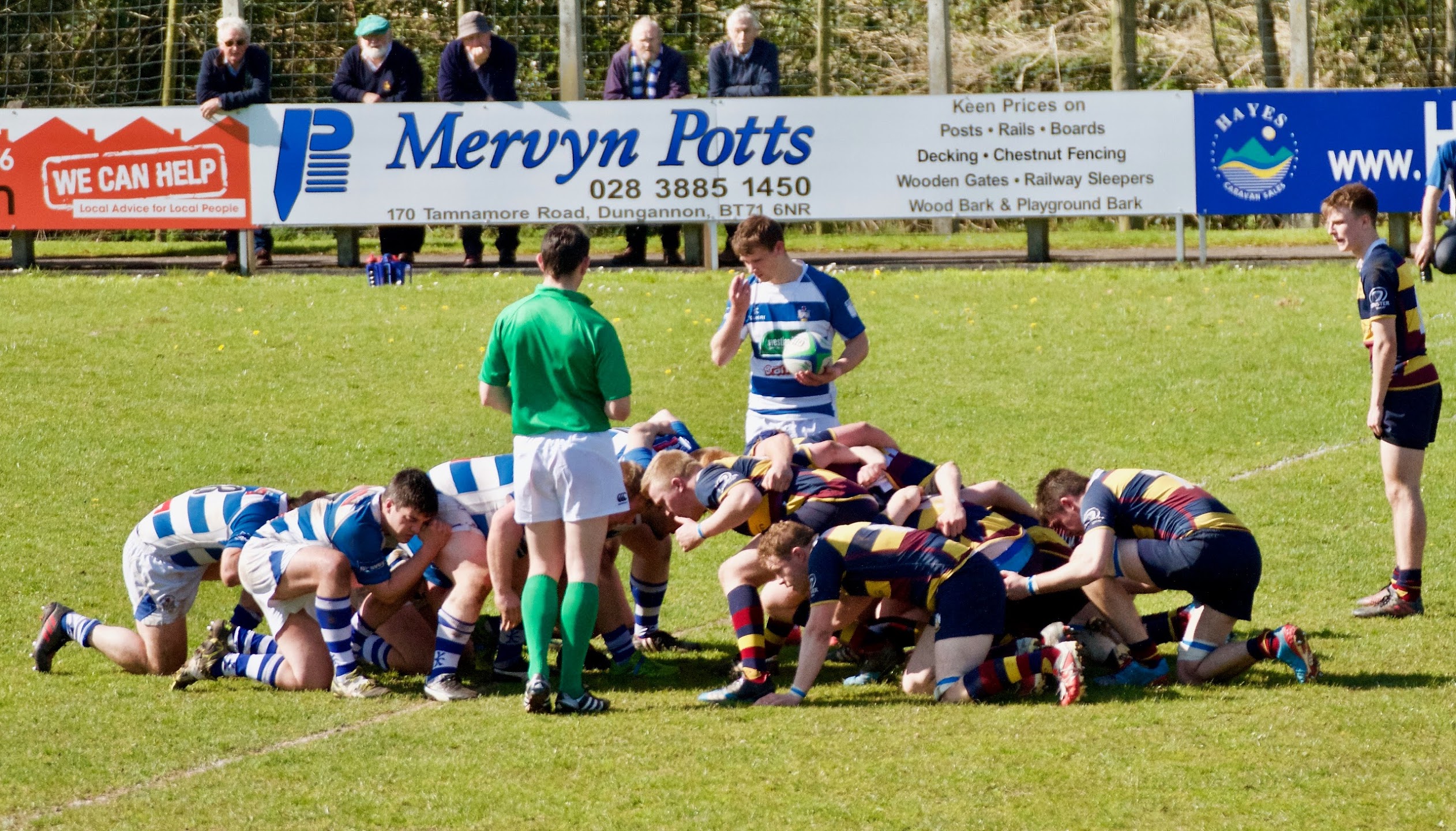 Skerries v Dungannon – 09/04/17
April 10, 2017
Ulster Bank All Ireland League Div. 2B
In Stevenson Park    –    09/04/17
Dungannon:  40   (J McMahon M Faloon G Treanor R Bennett try each, P Armstrong try, 2 con, penalty try, J Ravey 2 con.)
Skerries:  26   (P Devitt try, McAuley try con, C Tonge 2 tries, T O'Hare 2 con.)
Skerries secured what may be a valuable bonus point in Dungannon thanks to a last minute try by captain Ross McAuley
Played at sunny Stevenson Park, both teams treated the sizeable crowd to a feast of rugby that produced ten tries – Dungannon shading the honours six four. That bonus point leaves Skerries two points adrift of City of Derry, who they host in this weekend's final round of fixtures where a win would see them avoid the relegation playoffs.
Boosted by the inclusion of dual status players at full back and second row, it was the Tyrone men who stamped their authority on proceedings from the outset. Out half Paul Armstrong drilled a penalty down the line in preference of territory before a knock-on from the resulting drive denied them a scoring opportunity. The pressure paid dividends on six minutes when centre Seamus Mallon made a superb incision before offloading to James McMahon who powered over from close range. Dungannon showed an appetite to run the ball with Skerries forced to defend desperately in the first quarter with Maurice McAuley and Paul Devitt executing try saving tackles.
Within twenty five minutes the impressive Dungannon backline ran in two further tries through McKenna and Mallon before injuries forced Mallon and Armstrong out of the match.
The power based intensity of the game and the hard ground saw a field littered with bruised, battered and sore bodies. Dungannon lost their way as a result of these injuries. Their intensity waned and with Paul Devitt, Barry Caldwell and Eddie O'Mahony rallying their charges Skerries bounced back with a deserving try on 36 minutes. From a quickly taken penalty Skerries worked their way down the left wing until hooker Chris Tonge muscled through a gap. Thomas O'Hare landed the conversion and three minutes later he repeated the feat when the influential Devitt raced through a porous home defence to take the score to 19-14.
Prior to half time several drives by the Dungannon pack failed to cross the line but when Skerries infringed for the fourth time a penalty try was awarded and Mark Nally was yellow carded. Treanor's conversion sent Dungannon into a 26-14 interval lead.
On resumption Skerries continued to exert pressure with Barry Caldwell and Lorcan Jones keeping the Dungannon defence busy but it was a kick ahead from Dungannon full back McGregor which yielded a score when scrum half Treanor touched down for a self-converted try.
The contest developed into a fractious affair laced with injuries, stoppages and elementary errors until Dungannon registered their sixth try on 67 minutes. Following a series of attacks prop, Bennett, secured their final score when touching down for a converted try.
Skerries displayed great character with a rousing rally in the closing stages
While, sore and exhausted, Skerries choose not to give up and back down, but to dig deep and make the difference. Their dominance was rewarded following a break by McAuley and powerful straight running from winger O'Mahony which created the opportunity for Tonge to score his second try. Quick phases of play with Cormac Marrey, Thomas O'Hare, and Ross Dempsey especially prominent, brought Skerries to the opposition line resulting in Ross McAuley scoring the bonus point fourth try. Play quickly resumed as another try would take them within seven points of Dungannon and a further bonus point but time decreed otherwise. Although coming out second best the away bonus point was more than deserved. A huge challenge awaits both Skerries and City of Derry next Saturday as victory for either side would ensure survival in Division 2B next season – 2B or not 2B? – We await the answer.
Skerries last fixture is against City of Derry on Saturday April 15th . in Holmpatrick,at 2.30pm.
Skerries team 1 to 20….Mark Nally Chris Tonge Cormac Marrey Tom Mulvaney Joe Glennon Thomas O'Hare Michael Turvey Ross McAuley (capt) Eoghan Carron Paul O'Loghlen Paul Devitt Barry Caldwell Ross Dempsey Maurice McAuley Lorcan Jones Kieran Leonard Neil Martin AJ Sherlock Billy Mulcahy Eddie O'Mahony –