Skerries v Dungannon 14th of April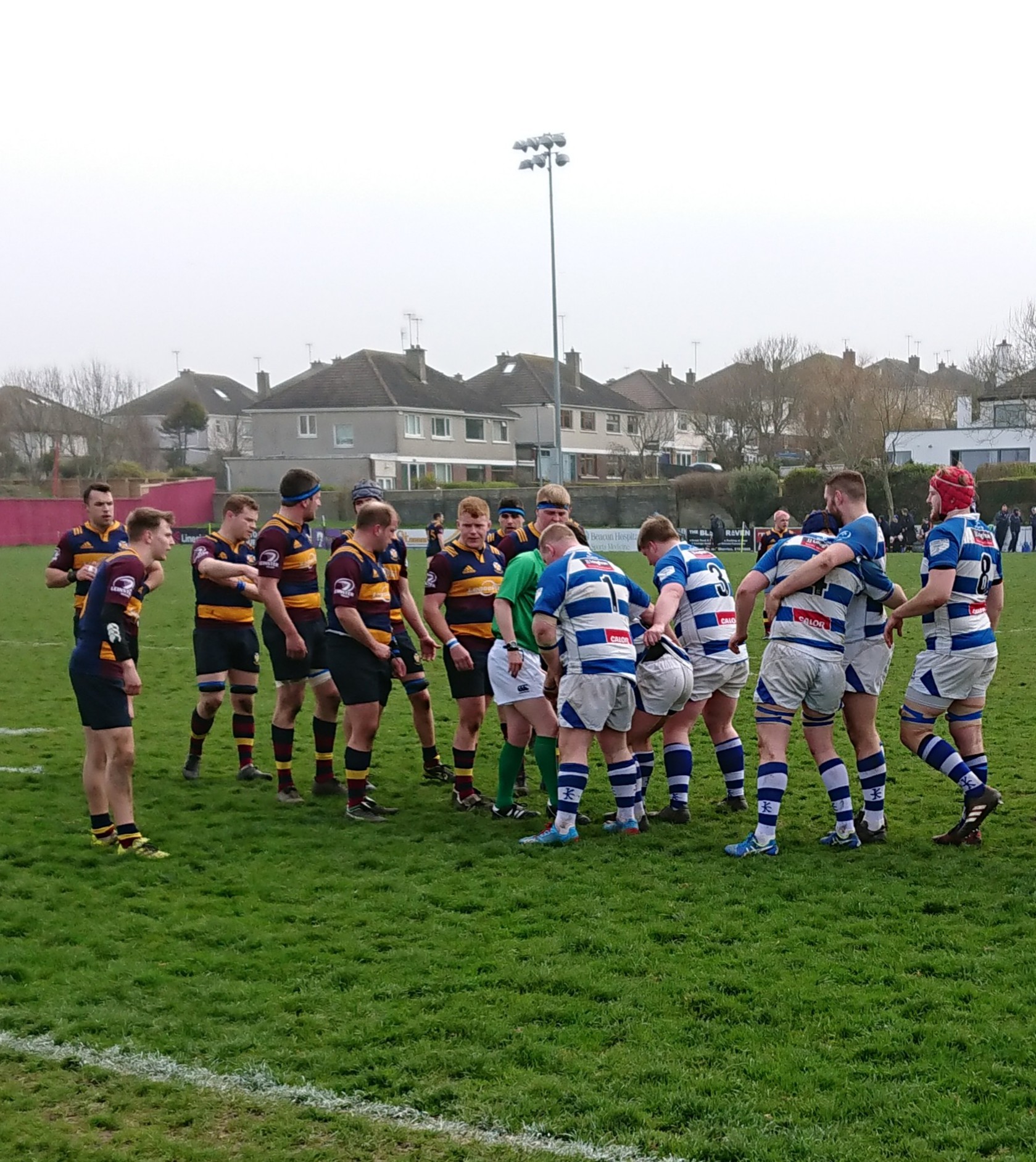 Skerries v Dungannon 14th of April
April 16, 2018
The final chapter of Skerries Senior XV 2017/18 AIL campaign was played out on Saturday at Holmpatrick against Dungannon RFC. Having started the campaign with a win against the same opponents back in September, Skerries wanted to end their season on a high and hoping to take full points. There was a full crowd at Holmpatrick and all looking forward to a high scoring game and thankfully weren't disappointed.
Skerries made a late change with Ben Jenkinson (birthday boy) coming in for Joe Glennon, Colin Doyle retaining his place in the centre.
Skerries opted to play with the strong breeze. With seven minutes into the game, a lineout to Dungannon was stolen by Cormac Marrey who utilised his basketball skills to tip it over Chris Tonge who raced 50 metres to score unopposed. Mulcahy was successful with the conversion to make it 7-0. Skerries continued to take the game to Dungannon and a good attacking strike by Paul Devitt was thwarted with last gasp tackles.
After 18 mins, Dungannon finally made some inroads into the Skerries 22 and were rewarded with a try by scrum half John Russell, the conversion went wide leaving the score 7-5. The game remained loose and within five minutes, Skerries were back in front. Another lineout to Dungannon was punished by Ross Halligan who found himself free from five meters out, the conversion was wide to leave the score 12-5 to Skerries. Ross Dempsey went off injured and was replaced by David Goodman. At 35 minutes, Dungannon punished some slack Skerries defence with a well worked try and conversion to leave the score all level, 12-12 at half time.
Skerries probably felt they were up against it in the second half with a strong breeze against them and level scores but straight from the whistle they took the game to Dungannon. However within 10 minutes, a speculative chip and chase led to a Dungannon try to leave the score 12-17 in favour of the visitors. Robbie Jenkinson replaced Ruari Woods at scrum half. That seem to spur Skerries on and good work from Ross Halligan, Mark Nally and Michael Turvey created some good yards. After a sustained period of pressure, Skerries were awarded a penalty which Mulcahy duly obliged and within five minutes, he slotted another one to leave Skerries back in front 18-17.
With ten minutes remaining, Skerries upped the tempo and played some inspiring rugby. Great work from the forwards again who made great inroads into the Dungannon 22. Great work by Billy Mulcahy, offloaded the ball to Paul Devitt who scored comprehensively and the conversion by Mulcahy made it 25-17 with eight minutes to go. Not resting on their laurels, Skerries went back on the attack. They kept the big Dungannon pack in check and with two minutes to go, Billy Mulcahy made a brilliant tackle and turnover and raced to the Dungannon line and made the touch down. He also slotted the conversion over which made the final score 32-17 in favour of Skerries also collecting the bonus point to go ahead of Dungannon in the final league standings.
Overall, a great performance by Skerries to finish the season. Some stand out performances by Ross Halligan, Cormac Marrey, Michael Turvey, Robbie Jenkinson and Billy Mulcahy.
As Skerries finish their season and head for a well-earned break, overall, the season was a positive one, with many young players getting their opportunity to play for the first time in the All Ireland League. The players and management would like to thank the many Skerries supporters who travelled with them on the many journeys up and down the country and look forward to the continued support next season.