Skerries v Galway Corinthians 10th of November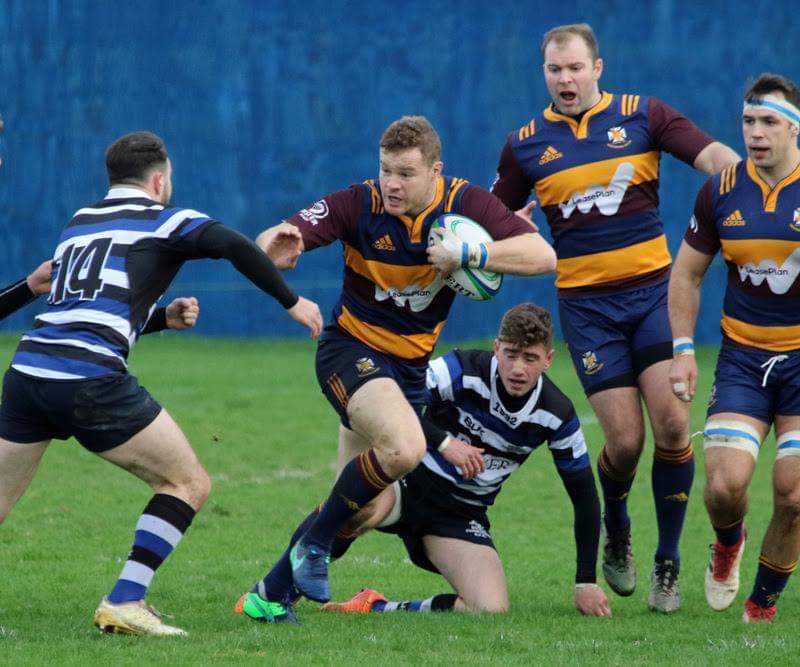 Skerries v Galway Corinthians 10th of November
November 12, 2018
Skerries 19 Corinthians 20
Ulster Bank League Div 2B
10th November 2018
Skerries difficult start to the season continued on Saturday with a particularly cruel home defeat to Galway side Corinthians. Having earned a penalty kick in the last moments of the game, the attempt sailed right of the posts leaving the home side with the small consolation of a losing bonus point.
While Corinthians started strongly, dominating possession in the early stages, Skerries slowly began to find their way in the match. Whenever the home side got some momentum and speed in their attack, they made significant line breaks. One such passage of play, out-half Billy Mulcahy broke into space and offloaded to Ross McAuley, winger Ruairi Woods was tackled just short of the line but Skerries seemed to have found the key to breaking down the Corinthians defence.
However 20 minutes in, Skerries attacked again down the left-hand side, a Corinthian's player found himself in the Skerries backline and intercepted a pass. His break was caught, but he managed to offload and Corinthians had their first try of the game.
The first half also showed the strength of Corinthians' scrum and it was to prove a huge advantage to them as the match went on. On each scrum they went for a penalty and usually succeeded in getting it.
Nevertheless, in the loose Skerries continued to break the Corinthian's tackles and managed to steal  a couple of line-outs. After more good work from centre Kevin McGrath, and some quick recycling, flanker Peter O'Neill scored the home side's first try. The conversion was missed and the score at half-time was 5-7.
With Ruairi Woods switching to scrum half in place of Eoghan Carron and Dave Goodman coming on to the wing, Skerries started with the speed and precision the home crowd knew could win them the match. A try came only a couple of minutes after the restart when good wide attack and strong running led to right winger Paul Devitt crossing the line. Mulcahy's conversion made it 12-7 to Skerries.
However, the lead didn't last long with a turnover leading to some rare wide play from Corinthians and they scored in the left corner. The conversion gave them a two point advantage.
With captain McAuley off injured, and changes in the pack following, Skerries continued to struggle in the scrum and Corinthians took advantage with a penalty kick to extend their lead to 17-12.
However, the last 10 minutes saw the lead swing between the teams. First some strong ball carrying from Vinny Watson, Dave Goodman and Kevin McGrath led to Woods picking the ball up from a ruck and diving over the line. Mulcahy's conversion gave Skerries a precious lead.
But another scrum penalty saw Corinthians edge back in front with only a couple of minutes to go. And while Skerries managed to win that late, late penalty that could have won them the game it just wasn't to be for the home side.
T. Scuffil
C. Marrey
N. Martin
R. Halligan
T. Mulvaney
M. Turvey
P. O'Neill
R. McAuley
E. Carron
B. Mulcahy
R. Woods
S. Dempsey
K. McGrath
P. Devitt
L. Jones
D. Goodman
B. Jenkinson
V. Watson
C. Doyle
K. Leonard