Skerries v MU Barnhall 2/12/17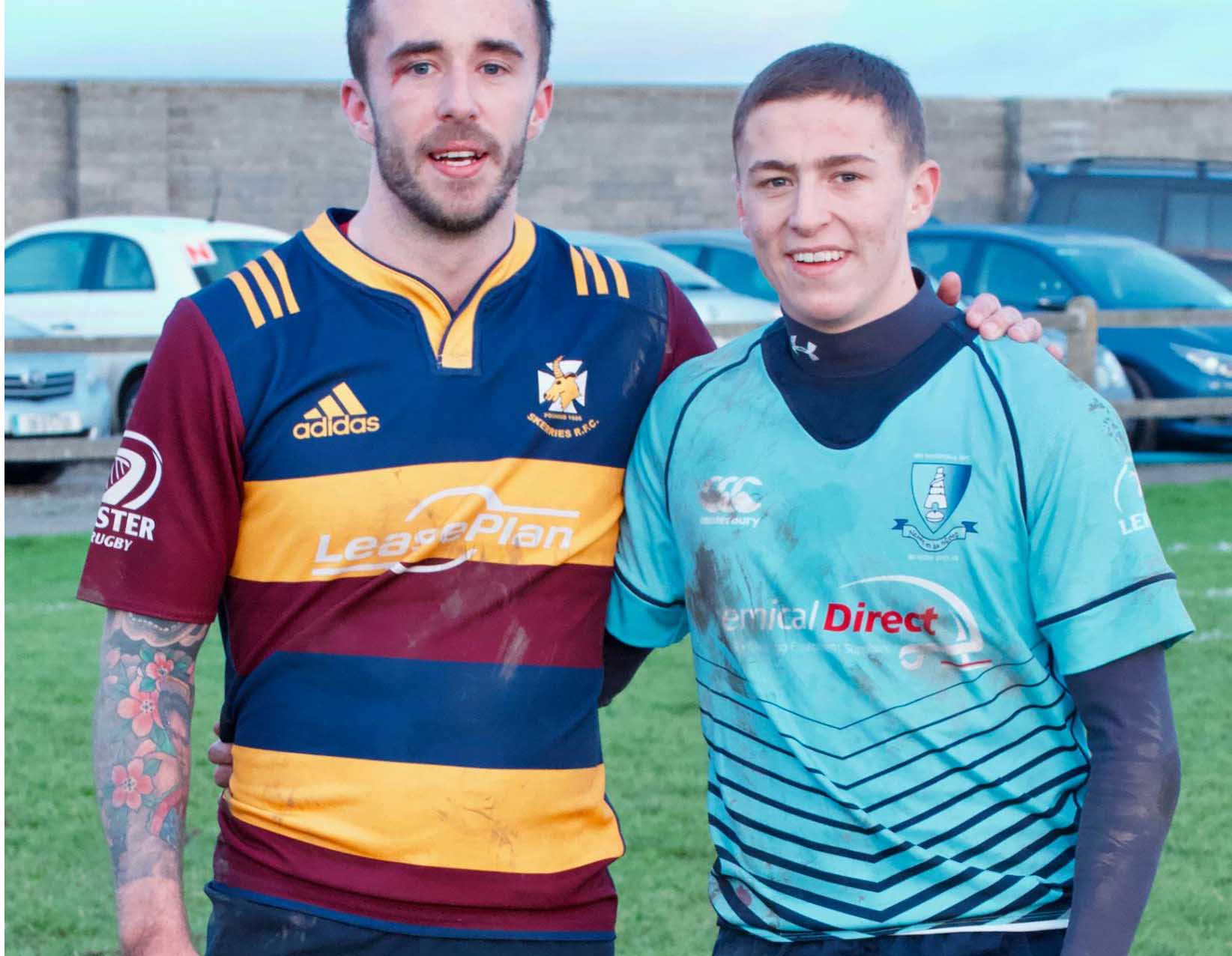 Skerries v MU Barnhall 2/12/17
December 10, 2017
SKERRIES RFC 18 -v- MU BARNHALL RFC  30
LENNOX BROTHERS SHINE
History was made in Holmpatrick on Saturday's in the Ulster bank League match against MU BARNHALL RFC when brothers Hugo Lennox and Conor Lennox played against one another.
Both of them had a superb game Hugo scoring a glorious try for Barnhall after 18 minutes while Conor saved certain tries from being scored by Barnhall by his brilliant tackles.
Conor was also involved in a fine back line movement in the 49th minute when after good running by Captain Michael Sherlock and supported by Peter O'Neill, Conor received the ball and was tackled into touch on the corner flag. Tom Mulvany won the Barnhall lineout and strided over for a try from 10m that was converted by B Mulcahy.
The first half ended with a try for Skerries by Ross Dempsey from a maul on the Barnhall line leaving the score at 18-11 to Barnhall.
In the second half Skerries continued to kick the ball which was gathered by Barnhall players whose back line carved out space and attacked the Skerries defence on numerous occasions.
Errors by Skerries with the possession they retained resulted in two intercepts by Barnhall and good running by their backs lead to two tries with one converted.
On a number of occasions during the match the Skerries team went through a series of phases in a very controlled way and very nearly crossed the opposing try line with R Woods coming close supported by Chris Tonge and Dave Goodman.
The final whistle ended the match with a win for MU Barnhall RFC .
There was no doubting the "Men Of The Match" Congratulations to Hugo and Conor you both can be proud of your performances.
Skerries RFC were delighted with your achievements as products of a very successful Junior and Youth training policy.
We will be in MU Barnhall RFC on Saturday 9th Ko 2.30pm for the next League Match.
Conor Lennox, Dara Lowndes, Ross Dempsey, Michael Sherlock, Paul Devitt, Billy Mulcahy, Eoghan Carron, Cormac Marrey, Chris Tonge, Mark Nally, Joe Glennon, Tom Mulvaney, Tom O'Hare, Peter O'Neill, Barry Murphy, Kieran Leonard, Neil Martin, Ross Halligan, Dave Goodman, Ruairi Woods