Skerries v MU Barnhall Friday 5th of October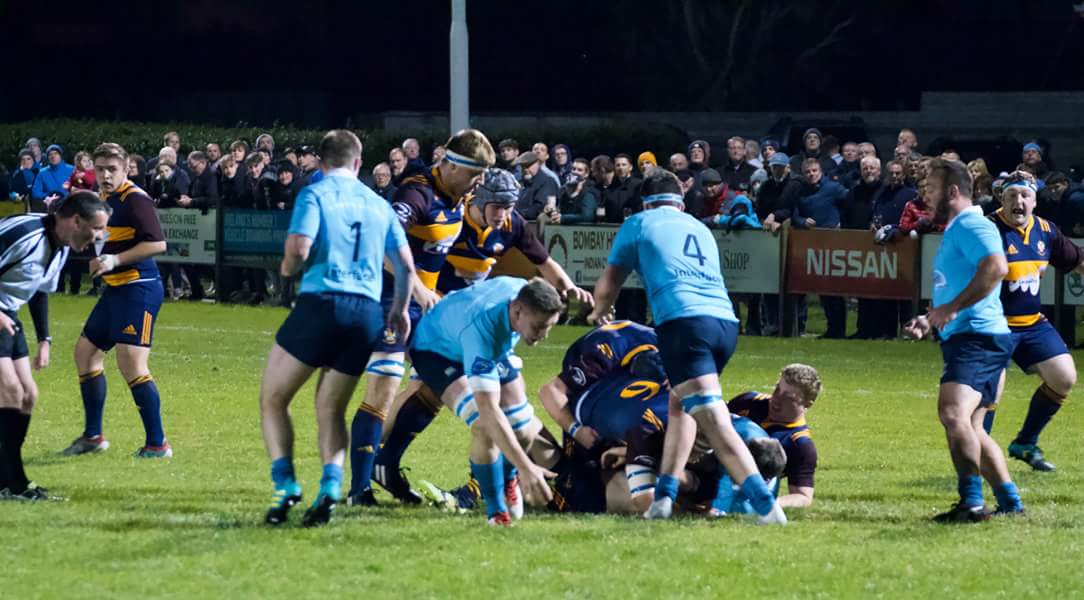 Skerries v MU Barnhall Friday 5th of October
October 9, 2018
Skerries v MU Barnhall Friday 5th October 2018
On a beautiful night for rugby in front of a very big crowd Skerries and MU Barnhall served up a 14 try spectacular which ebbed and flowed over the eighty plus minutes. Skerries made changes from the Dungannon match with Paul O'Loghlen, Ruari Woods and Ben Jenkinson all starting.
Skerries scored in the first minute after a huge piece of continuity play and Ruari Woods ran in for an excellent start. Barnahll responded and scored a converted try after five minutes and followed this up with another converted try on 10 minutes. On 14 minutes after another impressive move Paul O'Loghlen from Skerries saw another try on the board, converted by Billy Mulcahy. For the next 10 minutes Skerries got a foothold on the match and Billy Mulcahy scored two penalties to leave Skerries leading by 18-14 coming up near half time. What happened then for the next ten minutes, moments of rugby madness where MU Barnhall scored four unconverted tries all coming from turnovers when Skerries were in strong attacking positions. The MU Barnhall back row were excellent and No 8, Tom McKeown, was outstanding. At half time the score was 34-18 in favour of the visitors and Skerries looked shell shocked despite excellent first half performances from AJ Sherlock, Ben Jenkinson and Michael Turvey.
Skerries brought on Ross Dempsey and Eoghan Carron for the Second Half.
Five minutes into the second half Barnhall scored a converted try and it now looked like the match was over for Skerries but the boys refused to lie down and with the Barnhall No 8  being sinbinned the tide of the game completely turned.
Tries from AJ Sherlock (2) and Ruari Woods all converted by Billy Mulcahy brought the scored to 39-41 to MU Barnhall with 15 minutes to go. The return of the Barnhall No 8 had a huge baring on the game and they scored an unconverted try and a penalty to lead 39 – 49 going into injury time. But again Skerries refused to give up, they refused to kick a penalty in front of the post Skerries in the dying minutes of the game, took a quick penalty and after several phases of play, Eoghan Carron, scored a try to give the home team a second bonus point.
At the end the clock wasn't on the home team's side, final score Skerries 44 – 49 Barnhall.
All in all, it was an excellent example of how rugby should be played and coaching staff on both sides need to be complimented. Turnovers and sin binning were the crucial factors in this match and again the interpretation of the high tackle and the resultant sanctions.
This young Skerries side showed huge resolution and there were several star performers. The front row of Marrey, Leonard and Sherwin worked tirelessly throughout the match and the scrum was much improved. Ben Jenkinson tackled and supported all night, the back row of McAuley, Turvey and Murphy were outstanding.
The backs all played well at various stages, Mulcahy and Woods in the first half and Mulcahy's place kicking was excellent. Captain Sherlock and McGrath had a tough first half but refused to lie down, Goodman, Devitt and O'Loghlen all showed what they can do in attack. All the Skerries substitutions made an impact particularly Dempsey. To two outstanding players on the pitch on the night were the Barnhall No 8 and Skerries AJ Sherlock. AJ had an outstanding match both defensively and in attack, his work rate was huge and his ability to run good lines resulted in his two excellent tries. He is a huge addition to the Skerries Senior XV team this year.
Team
15.P O'loghlen
14.P Devitt
13.K McGrath
12.M Sherlock ( c)
11.D Goodman
10.B Mulcahy
9.R Woods
8.R McAuley
7.B Murphy
6.M Turvey
5.B Jenkinson
4.AJ Sherlock
3.J.Sherwin
2.K Leonard
1.C Marrey
16.S Derring
17.T Scuffil
18.PO''Neill
19.E Carron
20.R Dempsey