Skerries v Old Cresent – 3/02/17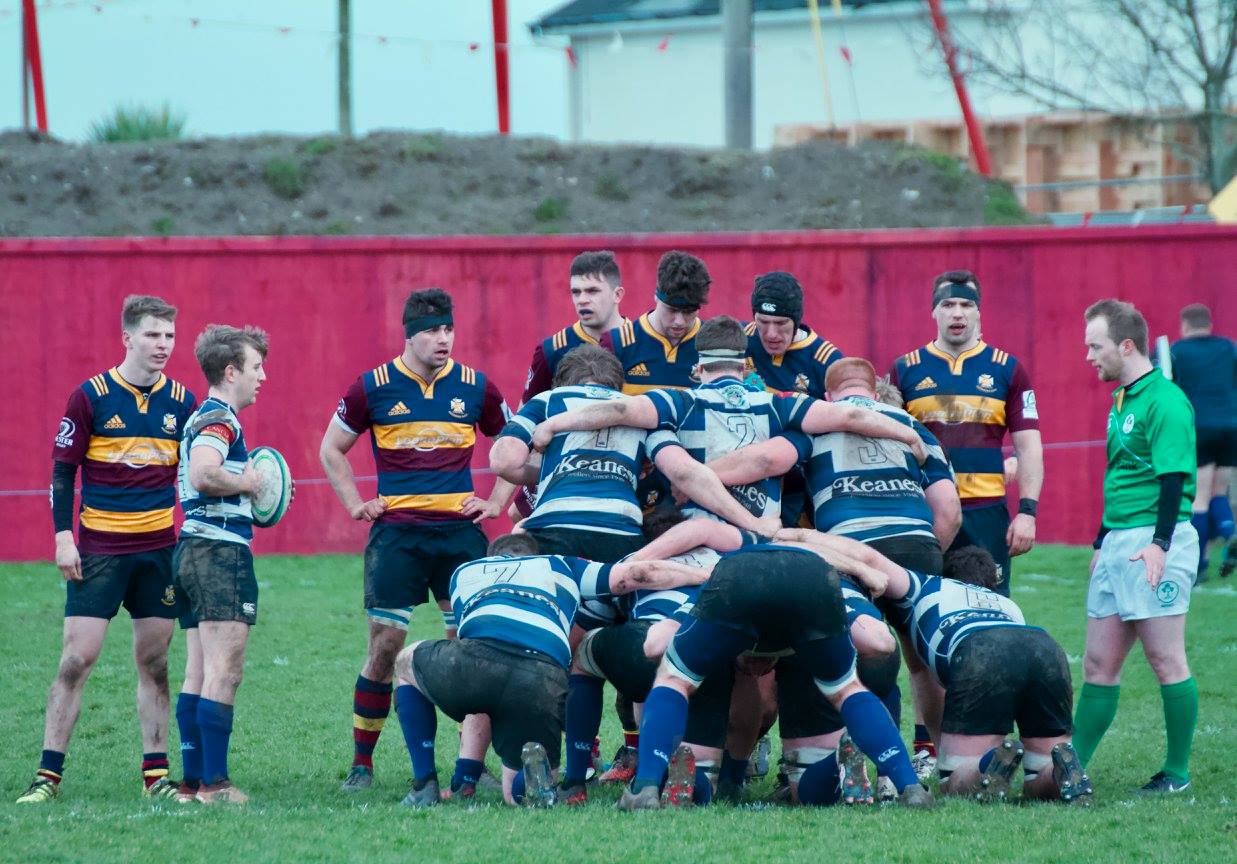 Skerries v Old Cresent – 3/02/17
February 7, 2018
Skerries RFC 20 Pts -v- Old Crescent RFC 26 Pts

Skerries RFC  welcomed League leaders  Old Crescent RFC to Holmpatrick for their Ulster Bank Division 2B League match on Saturday 3rd February 2018.

There were three tries scored in the first half two for Old Crescent which were converted.

One of these tries was very lucky as Skerries defence was coping with the attack but the bounce of the ball went straight into an Old Crescent players hands who dived over the line under the posts .

However even playing into the strong breeze the Skerries team were producing excellent rugby and with Billy Mulcahy at Out half and young Ruari Woods at No 9 they were mounting attacks on the opposition try line.

A superb kick into the attacking zone by B Mulcahy was followed up by Skerries RFC full back Dara Lowndes who caught the ball and scored a try but in doing so injured himself and was replaced by Ross Gordon.

The half time score was Skerries RFC 5 Pts—- Old Crescent RFC 14 Pts

In the second half the wind was with Skerries and was used to good advantage by their out half who was having a very good game.

Two tries were scored by Old Crescent in the 45th & 59th minutes with only one being converted. this left the score 26 Pts to Old Crescent to Skerries 8 Pts following the successful conversion of a penalty by Billy Mulcahy

Great running and slick passing and good mauls and line out work resulted in a rolling maul up to the opposition try line and Ruari Woods scrumhalf for Skerries crossed for a try leaving the possibility that if another try was scored and converted by Skerries with no response by Old Crescent ,Skerries would get a bonus point.

This set up a fantastic finish when in the 80th minute with great attacking through several phases it resulted in a maul by Old Crescent trying to exit out of defence near their try line.

Some how the Elder statesman of the Skerries team Joe Glennon managed to wrestle the ball from the opposition and in a sprint to the try line that Usain Bolt would have been proud off he touched down for a try near the corner flag.

The Skerries supporters then held their breath as they knew if Billy Mulcahy converted his kick Skerries score would be 20 Pts and Old Crescents 26 Pts and a bonus point would be gained.

And so it came to pass with a beautiful strike of the ball Billy Mulcahy put the ball through the posts culminating in a MAN OF THE MATCH performance.

There followed the final whistle from the referee which was greeted by the loudest cheer from all the supporters from both sides to be heard in Holmpatrick for some time.

Skerries RFC next match is away on the 17th February to Sunday's Well RFC.

Skerries RFC Team

15,Dara Lowndes,14,Mark Oliver,13,Ross Dempsey,12 Michael Sherlock Captain,

11,Paul Devitt,10,Billy Mulcahy,9,Ruari Woods,1,Cormac Marrey, 2,Chris Tonge,

 3,Mark Nally,4,Joe Glennon,5,Tom Mulvany,6,Michael Turvey,7,Barry Murphy,8,Thomas O'Hare

Substitutes; 16,Conn Marrey,17,John Sherwin,18,Jim Mulvany,19,Robbie Jenkinson,

20,Ross Gordon.