AIL Skerries v Rainey Old Boys 2nd Mar'19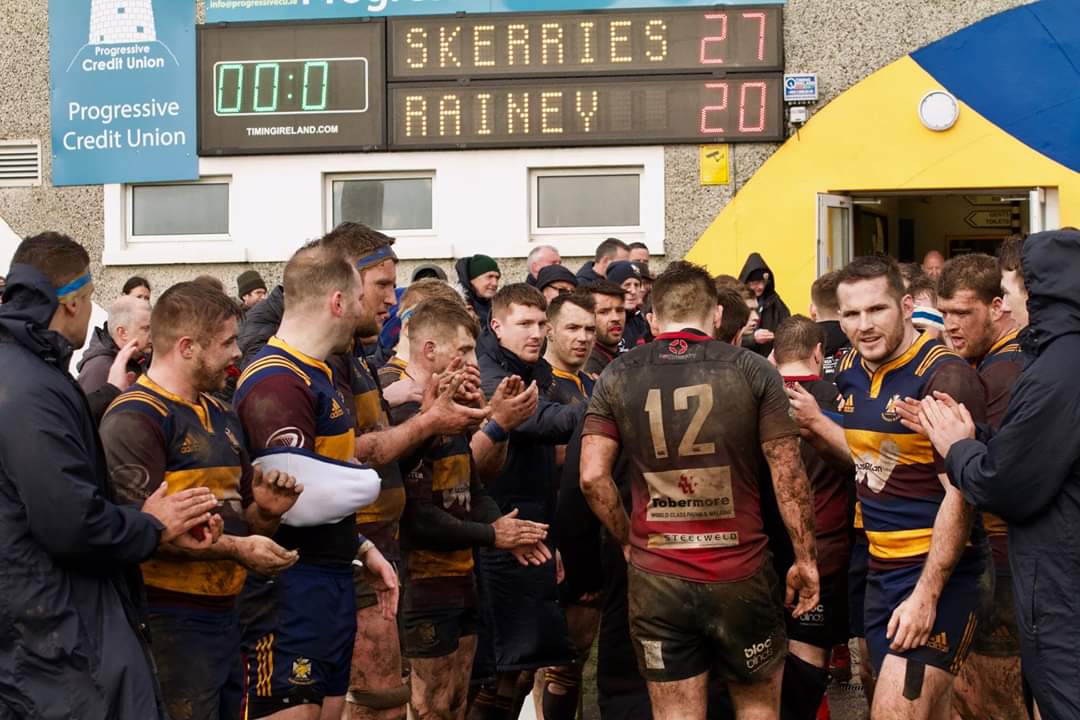 AIL Skerries v Rainey Old Boys 2nd Mar'19
March 4, 2019
AIL (Divison 2B)
Saturday 2nd March 2019.
Skerries RFC 27 – 20 Rainey Old Boys
It was a pretty good day for Skerries RFC last Saturday. There were 120 guests at the "Business" pre match lunch.  Michael Hoey of Country Crest gave a truly inspirational speech laced with palpable humility which received a fully justified standing ovation.
The in house team charged with the Super Draw delivered on an incredible project that now has enough nuts in the squirrels store to complete the project of our new all-weather pitch.
Oh yes, nearly forgot about the match!
Well what a match and yes all the superlatives delivered in conversation in the Clubhouse after the match, were for once, right on the money.
Having lost narrowly to Rainey in the first fixture in November up in Maherafelt, there were reasonable grounds to suggest that we could overcome the visitors on our home turf.
Nobody but nobody could have dreamed that the Goats would be 22 points to nil up in as many minutes and a bonus point in the bag for good measure.  The new electronic scoreboard installed by the Progressive Credit Union could hardly keep up.
The game was only five minutes old when captain Mikey Sherlock scored a magnificent try after some great work by Eoghan Carron, Kevin McGrath and Conor Lennox.  Paul Devitt added the conversion. A few minutes later Skerries lost number 8 Ross McAuley to a HIA, he was replaced by Evan Sherlock who turned in an amazing shift as he fielded almost every restart with the confidence of a great Wicked Keeper and made huge gains on each and every one.
A few minutes later Mikey Sherlock turned provider by delivering the scoring pass to Conor Lennox after some great interplay between backs and forwards. Paul Devitt could not add the extra points from a difficult position out wide.
Kevin McGrath is showing real signs of a return to the scintillating form that made him a firm favourite with the Skerries supporters and his speed and strength got him over the line for Skerries third try and 17 points to nil with just 18 minutes gone.
A great individual break by Eoghan Carron who was having a fine game at fly half and with a 50 metre dash scored Skerries fourth try.
What looked to be a hamstring strain saw Eoghan depart after scoring and unfortunately he took no further part on the field of play. Twenty two points to nil, who would have believed it?
Rainey eventually hauled themselves back into the contest and responded with a seven point try and a penalty just before half time.
Skerries lost captain Mikey Sherlock within minutes of the restart, he was replaced by Dave Goodman. Three talismanic players off injured, 43 minutes on the clock and Skerries Physio Sarah Nolan on overtime, it resembled a scene from "Mash"
The importance of scoring first after the break cannot be overstressed and Skerries realising this, duly delivered a try on 53 minutes.  Lorcan Jones who had an outstanding 80 minutes scored a sensational try that changed the dynamic of the game.  Skerries were now more than 2 converted tries ahead and Rainey knew that they had to throw caution to the wind and attack from every position.
From one to fifteen,bench included, Skerries performed heroics and managed the game to its conclusion and while they did concede two more unconverted tries they ran out deserving winners by 27 points to 20.
In a team sport such as rugby it is rarely fair to single out one individual whose contribution was in any way greater that anyone else on the team.
Richie Mc Caw was once asked what he thought it was that made Dan Carter such outstanding player, he replied "you mean apart from his humility?", he just seems to have more time on the ball than anyone else and he invariably choses the right option" .Watching young Ben Jenkinson play for the full 80 minutes yesterday was a privilege and while comparisons are not always productive in Ben's case they are fully justified.
Well done Skerries. Next up a tricky away test at Greystones (Saturday 9th march)
Skerries team …. K. McGrath, C.Lennox, M. Sherlock, L.Jones, E.Carron, R. Woods, P.Devitt, C.Marrey, K.Leonard, T.Scuffil, R.Halligan, B.Jenkinson, , M.Turvey, R. McAuley,B.Murphy.
Conn Marrey, E.Sherlock, R Jenkinson, J. Sherwin,D. Goodman.