Skerries v Sligo Match Sat 1st of December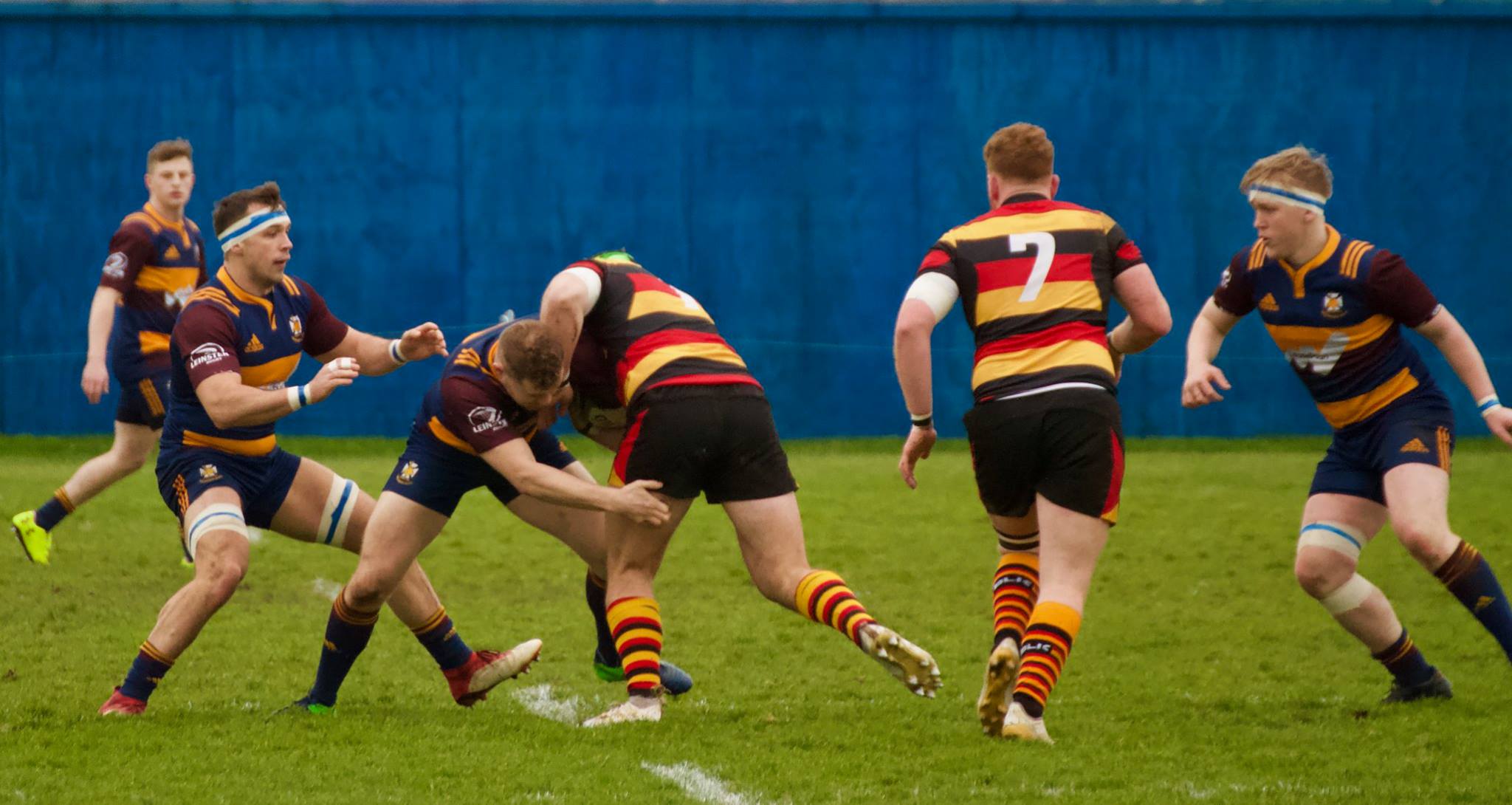 Skerries v Sligo Match Sat 1st of December
December 3, 2018
Ulster Bank All Ireland League Div. 2B
 At Holmpatrick    –    01/12/2018
Skerries  19 ( S Dempsey  L Jones  try ea. R Jenkinson try 2 con. )
Sligo       27 ( P Carter  M Davey  C Goddard  R Feehily try ea.  J Keegan 2 con 1 pen )
With the first half of the season about to close off before Christmas, Skerries thoughts dwell on survival in their AIL division.  The question is 2B or not to 2B next season! Although rather unfortunate with some decisions that harshly penalised them, playing their brand of free-range rugby results in some spectacular scores both for and against them.  Frequent risks will be punished frequently.  Out of the 50 teams in AIL rugby, Skerries have the tenth highest points scored yet have surrendered more points than any of the other sides. Player's commitment is not in question and defeat hurts them more than anybody. The unavailability of a considerable number of experienced players, for various reasons, is unhelpful in the requirements and expectations placed on some fine young players.  The talent is there, the need is to dig deep, tidy the process, keep control and the wins will happen
Skerries perhaps have a history of starting slow while Sligo tend to go straight into top gear and so it was.  From the fifth minute to the twentieth, Sligo winger Carter and flanker Davey scored tries which were converted by full back Keegan, who followed up with a converted penalty.  Skerries were now behind by seventeen points and just a quarter way through the game. By then Skerries had lost influential out half, Billy Mulcahy and replacement Robbie Jenkinson was welcomed on board. Although normally a scrumhalf he slotted into the position and acquitted himself well.
Skerries now shifted gear and on the half hour mark, following a well worked lineout and maul, centre Sean Dempsey crashed over for a try converted by Jenkinson. Continuous pressure was maintained and on the half time mark Skerries again touched down but were adjudged to have knocked the ball forward.  A TMO, if it were in place, might have shown that possession was regained before the ball hit the ground.
The second half continued to favour Skerries, and with Dempsey prominent, a turnover ball was wrestled from the clutches of a Sligo player and Robbie Jenkinson sliced through the defence to score a try which he then converted. The score was now 14-17. Following a melee, the Skerries no.2 was randomly selected for the sinbin, but despite the loss, Skerries continued to pile on the pressure and winger Paul Devitt, although being held by a couple of Sligo tacklers, managed to offload the ball to Lorcan Jones who showed remarkable pace to stretch and score a try. This put Skerries in front 19-17. With the Marrey brothers, Conn and Cormac, together with Ben Jenkinson and Ross McAuley especially prominent, Skerries supporters relaxed somewhat but Sligo had other plans and quickly scored two unconverted tries by winger Goddard and scrumhalf Feehily. The score now 19-27.
Once again, as in previous games Skerries finished strongly, being held up over the try line and, the enemy time, deprived them of what would have been a deserved bonus point.
Handling errors, crucial turnovers, lineout issues and ill-discipline are areas that need to be improved if Skerries are to survive in this Division.  Positives to be taken from the contest include the work rate, the effort, the energy, as well as the 'never give up' character shown by this team.
Skerries next AIL fixture is away to Belfast Harlequins 08/12/2018
Skerries team 1 to 20….Cormac  Marrey Conn Marrey J Sherwin T Mulvany R Halligan M Turvey K Leonard      R McAuley (capt) E Carron B Mulcahy R Woods S Dempsey K McGrath P Devitt L Jones A O'Connor    AJ Sherlock B Jenkinson R Jenkinson C Doyle