Skerries v Wanderers 27/1/2017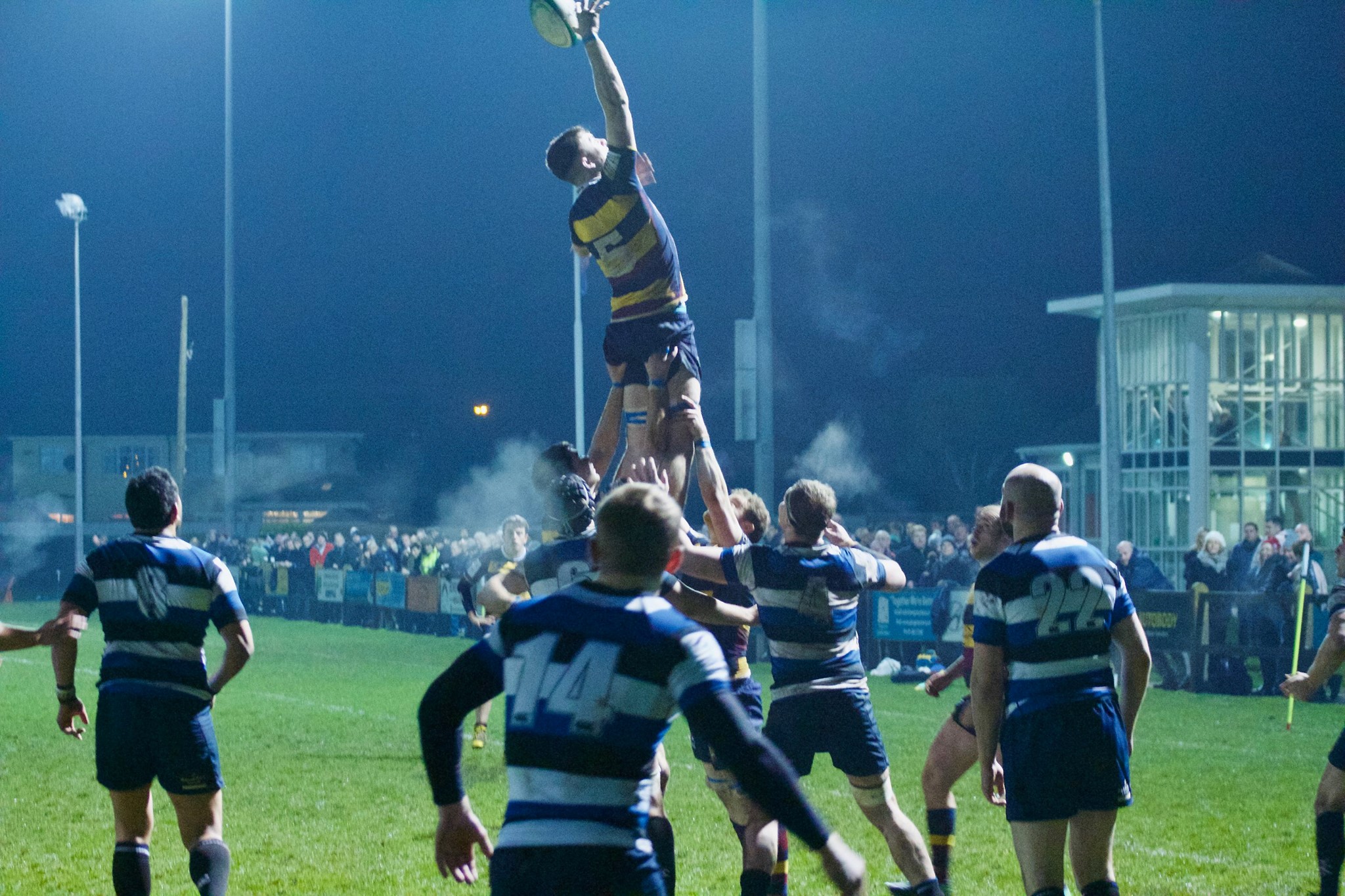 Skerries v Wanderers 27/1/2017
January 30, 2017
Skerries 19 Wanderers 20
UBL Div 2B, Holmpatrick, January 27th
A last minute try brought a tough-to-take defeat for Skerries at home under Friday Night Lights, yet when the soreness fades there will be a lot of positives to take from the game.
In fine evening conditions in front of a very strong home support, Skerries had been looking to back up their double over Bective and continue to build momentum after a difficult first half of the season. Wanderers, meanwhile, came in buoyed by a win over league leaders Armagh and were sure to pose a tough test.
The first quarter didn't bring much to engage the crowd, with Wanderers claiming an early penalty from out-half Wade and also having much of the territory. Regularly leaving rucks uncontested, the visitors wrapped up Skerries easily in this phase and looked a little sharper in attack. Still, Skerries kept Wanderers at bay, while also stealing two line-outs.
Skerries mistakes made it difficult to relieve pressure, even as they defended well, and before the half hour mark another penalty for Wanderers made the score 0-6.
However, adopting a more patient approach, Skerries earned their first try of the night. From a line-out they were beginning to dominate, the home team kept it tight to move gain ground before captain Ross McAuley burst through the line from about 15 metres to touch down. Paul O'Loghlin's conversion gave Skerries a 7-6 lead and the crowd was beginning to believe this would be a good contest after all.
Nevertheless, penalties either side of half-time put Wanderers back in front. However, the visiting team wasn't threatening the Skerries line in any real way and it would be the home side who would next cross the whitewash. Having almost succeeded with one line-out maul, Skerries opted for another line-out. Claimed by the excellent Tom Mulvaney, while the maul did not succeed, hooker Chris Tonge picked himself up to run an arcing line and slice through the Wanderers defence.
After another Wanderers penalty, and the sin-binning of Skerries scrum-half Eoghan Carron, the home team scored the try of the match when Tomas O'Hare broke in the opposition 22 and having tied in defenders through a superb offload to replacement out-half Billy Mulcahy. It was a moment to savour and with the score at 19-15, Skerries hoped they might get a deserved win.
Perhaps harshly, Wanderers lost a player to the sinbin for some afters, but they still managed to build pressure. They final broke the Skerries defence in the final minute, but under controversial circumstances when the crowd cheered what seemed a clear knock-on in the Wanderers midfield, only for the referee to rule that the ball went backwards. The visitors touched down the corner immediately after.
There was time for one last Skerries penalty from distance, which fell short, and Skerries were left to rue the late defeat. However, with a solid scrum platform, a very good line-out and maul, plus a much improved defence, the general mood on the sideline was much more positive than might normally be expected after such a late defeat.
Skerries
1. Mark Nally
2. Chris Tonge
3. Cormac Marrey
4. AJ Sherlock
5. Tom Mulvaney
6. Tom O'Hare
7. Michael Turvey
8. Ross McAuley
9. Eoghan Carron
10. Paul O'Loghlin
11. Paul Devitt
12. Colin Doyle
13. Ross Dempsey
14. Mark Oliver
15. Maurice McAuley
16. Kieran Leonard
17. Darragh Joyce
18. Billy Mulcahy
19. Dave Goodman
20. Conor Ronayne