Skerries vs. Cashel RFC – 5/3/16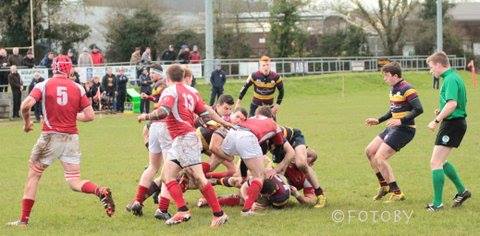 Skerries vs. Cashel RFC – 5/3/16
March 9, 2016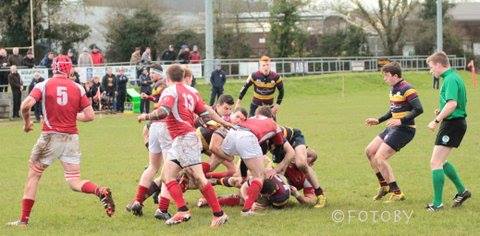 Ulster Bank All Ireland League

Div 2A in Cashel Spafield- 05/03/2016
Cashel- 31 (Mike Crosse, Gavin Ryan, Conor Holland)
Skerries- 14 (Thomas O'Hare, Chris Tonge, Ciaran Frawley, Conx2 )
Despite being beaten by a determined Cashel side, Skerries fate remains in their own hands. Due to injuries and non availability, Skerries were forced to make a number of changes. Young Billy Mulcahy starting at full back, Ciaran Frawley moving to out half. Maurice McAuley coming in for Derek Keane and Neil Foster starting in the front row for Cormac Marrey.
Skerries started well with the breeze at their backs. Within 10 minutes of the start Skerries were penalised and John Condron was handed a yellow card. Shortly after Cashel were awarded a penalty try and kicked the conversion making it 7-0 to the home side.
Skerries determination resulted in a well worked try with Chris Tonge making an inside pass for Thomas O'Hare to score under the post. Ciaran Frawley converted making the score 7-7. The game was on for both sides.
Skerries were forced to make a change in the pack with Vinny Waston making his debut appearance for the firsts.
On the half hour mark, Cashel edged their way into the corner for a second try of the game. However, the conversion was missed but it put Cashel ahead by 12-7.
Just before half time, Skerries scored their second try with some good pressure and work from the pack. Ross McAuley just stopped short of the line but quick hand off from the ruck resulted in Chris Tonge making his was over the line. Ciaran Frawley converted brilliantly from the touchline putting Skerries ahead at half time, 14-12.
On resumption of the second half, Skerries needed to maintain the good performance but Cashel scored a try and got the conversion taking the lead in the second half 19-14.
Skerries defended stoutly throughout with some great performances by Ross Dempsey and Ciaran Frawley in the backs and having a huge impact in the defensive line. Aj and Evan Sherlock were introduced along with Robbie Jenkinson and Milo McCarthy to freshen things up. Cashel finished the game with two more tries taking the lead by 31 points to 14.
Despite the loss, Chris Keane and his young charges will take confidence in the performance as they put in a great team effort and kept the momentum going.
**Skerries next AIL league fixture is Saturday 26th of March home to UCC.
Skerries team 1 to 20….Neil Foster Chris Tonge John Condron Joe Glennon Ross Halligan Thomas O'Hare Kieran Leonard Ross McAuley(Capt.) Eoghan Carron Ciaran Frawley Maurice McAuley Ross Dempsey Kevin McGrath Colin Doyle Maurice McAuley Billy Mulcahy Vinnie Watson Evan Sherlock Aj Sherlock Robbie Jenkinson Milo McCarty.