Tullamore v Skerries – AIL Div 2C – 5th Oct'19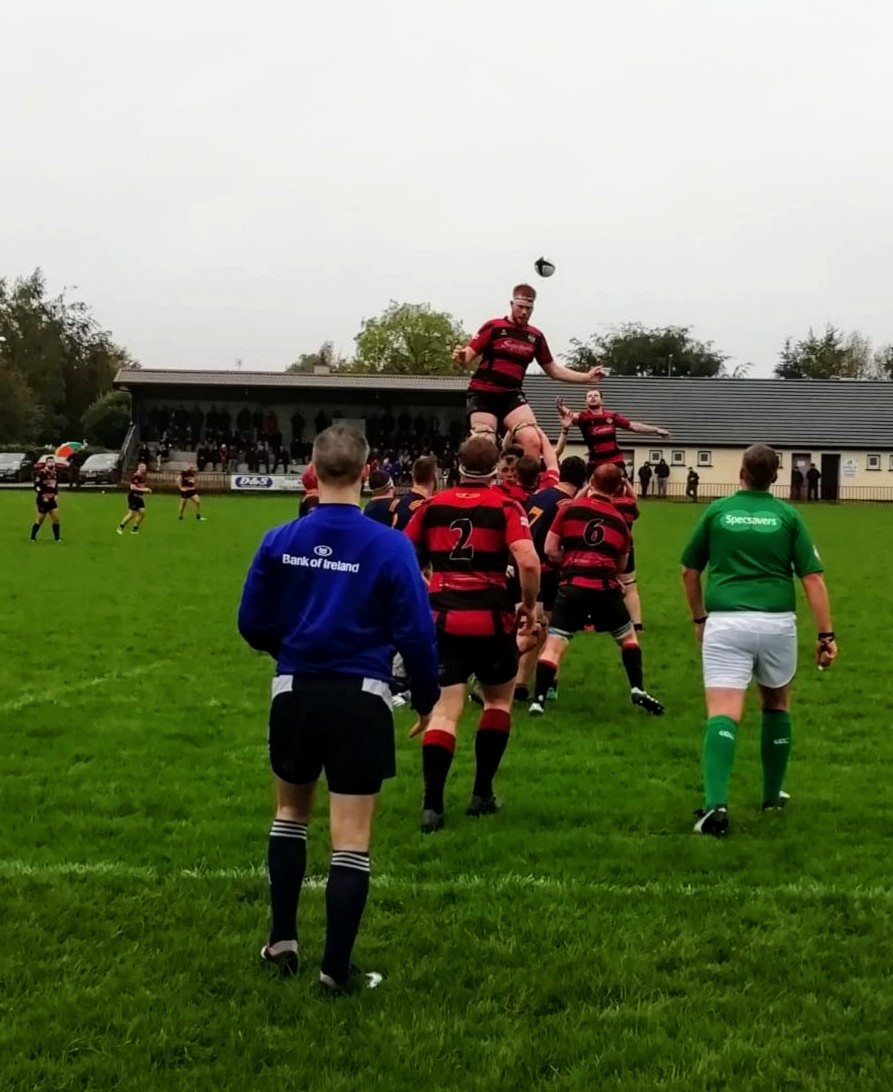 Tullamore v Skerries – AIL Div 2C – 5th Oct'19
October 7, 2019
Lessons of last season remain top of mind within the squad, every point counts, every tackle is vital and coming out of the blocks first is key for victory.
In a post Storm Lorenzo atmosphere in Tullamore RFC, this positive mind-set was evident by the intensity of the performance. Skerries played with a strong wind in the first half and started off brightly. Tullamore lost their prop to injury and Paul O'Loghlen put Skerries ahead with a penalty.
After 13 minutes, O'Loghlen converted a penalty again which left Skerries 0-6 ahead. The Skerries lineout was functioning very well, Tom Mulvaney was excellent in this area. A few handling errors disrupted the Skerries maul and let Tullamore off the hook. In a brief foray into the Skerries half, Tullamore scored a penalty, leaving the score at 3-6.
Right on half-time a piece of controversy occurred when Skerries appeared to score a try but the referee decided there was a knock on. A harsh decision according to the travelling support standing along the very wet side-lines.
Half-time 3-6 to Skerries

Skerries started off strong again in the second-half. The conditions were taking their toll with heavy rain and a strong wind making their presence felt. Colin Doyle, Ross McAuley, Michael Turvey and Paddy Fay Watt were prominent in the second-half, great ball handling and intelligent offloads.
After 48 minutes a kick from Paul O'Loghlen was blocked down but was regathered by Ross McAuley and passed to Ruairi Woods who ran from the 22 metre line to score under the posts. O'Loghlen popped it over for the conversion leaving Skerries 3-13 ahead.
As expected Tullamore were not going to lie down and with conditions getting much worse they scored a penalty after 6o minutes to bring the score to 6 -13.
There then followed a period of intense pressure by Tullamore which was dealt with very well by the visitors until a very dubious yellow card was given against McAuley. There then followed a number of five metre scrums which the visitors repelled until the referee awarded the home team a penalty try after 72 minutes. The score was now all square at 13-13.
The most encouraging part of the game was that in the last 10 minutes Skerries pressed very hard to force a victory and in dreadful conditions at the end missed a penalty which would have led to a merited win.

The coming season's challenge will be great for many of these young Skerries players but judging on this performance in wet, windy and ill-suited conditions, it will not be easy, but it will be tackled with enthusiasm, honest and commitment.
It was difficult to pick a man of the match as many players performed very well on the day and all players deserve great praise for their efforts. So all in all, it was a full team performance and the signs are good for the season ahead.
As usual the Skerries supporters travelled in numbers despite the miserable weather, the 16th man playing their part on the day!

Skerries Team
15.K McGrath ( Capt )
14.M Oliver
13.L Jones
12.C Doyle
11.R Gordon
10.P O'Loghlen
9.R Woods
8.RMcAuley
7.B Jenkinson
6.M Turvey
5.P Fay Watt
4.T Mulvaney
3.T Scuffil
2.K Leonard
1 J Sherwin
16.C Marrey
17.C Murphy
18.T O'Hare
19.B Mulcahy
20.D Lowndes