Skerries RFC 1934 to 1940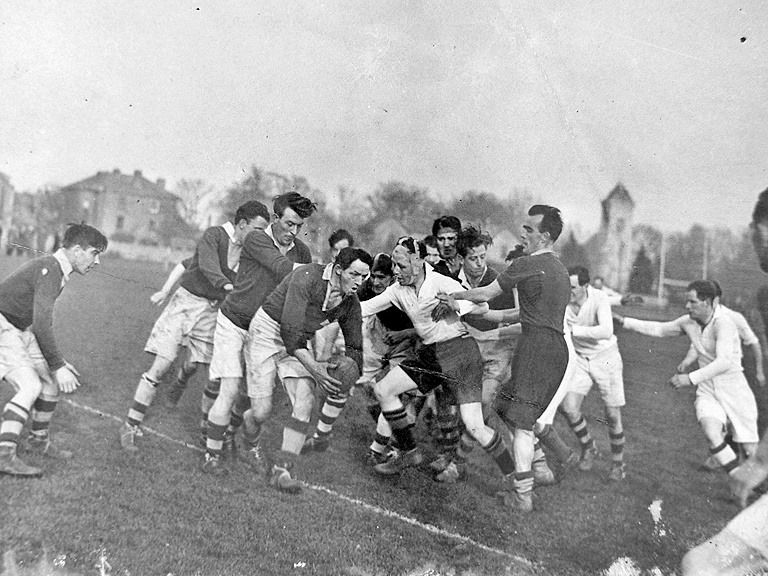 Skerries RFC 1934 to 1940
March 22, 2016
History of Skerries Rugby Club
Catering for visiting teams was a problem in those days. Travelling was almost entirely by bus and train and Mrs. Hand in Dublin Street (now Ronnie and Teresa Boylans) was the first caterer.
For 1/6 a head she provided changing facilities and a plain tea to visiting teams who had to walk from the Railway Station, change, walk to the Mill Field, play, walk back in togs and after a plain tea walk back to the station.
After Mrs Hands the Club got accommodation in a restaurant with a small dance floor in Strand Street.
There after the matches, the Club ran a dance from 7pm to 9.30pm the last train to Dublin being 10pm. There was no question of a selection committee in those days as the problem was to get 15 players together at all. The position was eased to some extent during the school holiday periods when schoolboy players were available.
If no travelling was involved, teams could sometimes be fielded on Saturdays at home and some of the other Clubs were prepared to travel to Skerries on Saturday on the basis that there would be no return fixture. The Clubs fixture with Malahide became a regular St. Patrick's Day occasion.
Ernie Crawford, the Lansdowne and Ireland full back, was a regular visitor to Skerries staying during the summer at Bill Hartford's house. He took a great interest in the Club and encouraged the players by giving talks to players in the Carnegie Library. During this time the match on the beach became a summer feature.
Captains of the Club, around this time up to 1940 were Jimmy Duff, Vincent McGowan, Tom Brangan (1933-34), John McDonough 1934-35 Joseph Duff 1935-37, Sean Fitzpatrick 1937-38, Frank Glennon 1938-39 Jimmy O'Brien 1939-40
Click on Link below for more photos…..
PHOTOS Skerries RFC Down the Years